I went on my long awaited shopping trip with my Mother on Tuesday which meant my spending ban was over. I didn't buy any make-up and clothes for a month. And I didn't buy any unnecessary food either. But that was easier seeing as I've given up junk food for lent. We went to the Swindon McArthurGlen Outlet which is about an hour from where I live. And only got lost once on the way too which is a miracle for my Mother. We got to the shops at 2pm and shopped solidly for 6 hours. I did joke on Twitter that I'd wear my heart rate monitor next time we go shopping. It would be interesting to know how many calories 6 hours shopping burns. I've got a few other posts planned from this trip but I just had to start with this Yankee Candle Haul.

I'm totally addicted to Yankee Candles so I was ECSTATIC when I realised there was a Yankee Outlet in Swindon. They had so many of their Christmas scents reduced even further. I couldn't resist gathering this collection. The Christmas "Spice" scents are probably one of my favourites. I love the smell of Cinnamon and everything else associated with Christmas.

Firstly I picked up these waxes for just 49p each.  I went for Red Apple Wreath which I already have in a medium jar and absolutely love. Then Christmas Memories, Snowflake Cookie and Sugared Apple. These say they burn for up to 8 hours but I always find mine last a lot longer than that – usually more than 15. I really wanted to buy Candy Cane Lane too but Sam would have gone mad as he doesn't like anything minty.

I bought this box of Tea Lights in Snowflake Cookie for just £2.10. I'm going to burn them in my reindeer tea light holders featured in my Christmas Gift Guide.

A lot of the Votives I bought are the same scents as the Waxes but at 49p (usually £1.80). I chose Cranberry Ice, Home Sweet Home, Snow In Love, Snowflake Cookie and Christmas Memories. I was glad when I saw that Cranberry Ice was reduced as Sam bought the large jar for my mum for Christmas and I absolutely loved the scent. Home Sweet Home is my favourite from this selection though and I'm going to burn this one first.

After buying 8 new Votive candles I just had to buy some holders for them. My mum bought he the red one for my kitchen which was £3.50 (thank you mum) and I chose the purple one for the lounge which was reduced to £2. I know it's meant to be a Christmas design but I think it's not to "over the top" and would be perfect for all year round. I'm going to burn the Snow In Love in this one as I think the white candle will look lovely with the purple holder.
What are your favourite Yankee Scents? What do you think of my Yankee Candle Haul?
Until next time,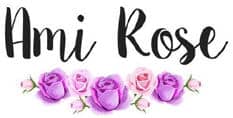 Be sure to follow me on social media to keep up to date with my latest posts!
You can find all of my social media links in the sidebar. I am @AmiRoseBlog on everything.