Pulsin kindly sent me some of their products to help me out with my lent challenge (I've given up junk food entirely). I'm crazy I know, but nearly 4 weeks into it I'm feeling so much better in myself. However I've been finding it difficult to find something I could have as a snack that wasn't considered as "junk". I've mainly been snacking on fruit or carrot sticks which honestly aren't that appealing. I was glad to receive some of Pulsin's range to try.


Firstly their Protein Snacks and Raw Chocolate Brownies. These come in 8 flavours and are perfect for giving you that extra "boost" throughout the day. Their raw chocolate brownies even contain 1 of your 5 a day, how amazing is that? All of their
snack bars
are dairy, gluten and soya free along with being vegan and containing NO added sugars. What's not to love? My favourite from their Raw Choc Brownie range was definitely the Raspberry and Goji, full of such wonderful flavours.

I received two bars from their range of Beond Organic Snack Bars which also contain 1 of your 5 a day and come in 5 flavours. Acai Berry, Blueberry, Raw Chocolate, Apple and Cinnamon and Baobab Pineapple. I was lucky enough to try all the flavours at the BBC Good Food Eat Well Show and the Apple Cinnamon Bar was my favourite from this range. Although the Acai Berry Bar was lovely too.

I was also sent a sachet of each of their Whey, Soya and Hemp proteins. These are tasteless proteins that can be added to almost anything, sweet or savoury to give a "great tasting protein health boost". They come in a range of sizes from 20g-5kg and start at £6.29 for 250g.
Have you tried any Pulsin products before? Which are your favourites?
Until next time,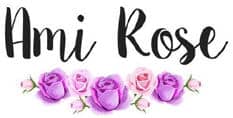 Be sure to follow me on social media to keep up to date with my latest posts!
You can find all of my social media links in the sidebar. I am @AmiRoseBlog on everything.