I'm sorry I've been quiet on the blog for the last 2 weeks but we've got a new addition to the family. We've got a gorgeous puppy called Milo. I know some of you were probably thinking then "oh my has she had a baby?" but Milo is just as good as and just as hard work as at the moment. Sorry for the lack of "decent" photos but I've left my camera in the office (with my SD card in) and didn't want to wait to do this post.
Milo is a Brindle and White French Bulldog. I've wanted one for years and years but had to wait until my life suited getting a puppy. Now I work for myself and have a massive yard for him to run about in aaaaall day so no leaving him at home. Although, I do need to leave him sometimes because he's gotten so attached I can't even go to the toilet without him following me!

Don't worry, they'll be
lots more photos
of Milo on my posts and twitter as he's almost always getting up to something stupid. He's honestly changed our lives and I love him so much already.
What do you think of Milo? Cutie right? I can't stop snuggling him!
 Until next time,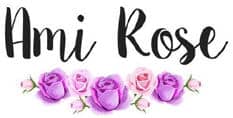 Be sure to follow me on social media to keep up to date with my latest posts!
You can find all of my social media links in the sidebar. I am @AmiRoseBlog on everything.