We're fast approaching Christmas, the days seem to keep whizzing past. It's hard to believe we're just 21 days from Christmas and 28 days away from 2015! I'm usually really organised but this year I'm the complete opposite. After trying to figure out what to get everyone for Christmas and looking through various gift guides I thought I would write a Christmas Gift Guide For Her of my own for #Blogmas.

Perfume is always a safe option, I don't think any women would ever say no to perfume. This (Gucci Guilty) is one of my favourites bought for me by my Dad last Christmas. I'd also recommend Diesel 'Loverdose' or Armani 'Ci'. The perfume shop (www.theperfumeshop.com) always have a good selection with some unbeatable deals.

These may be "sooo last year" but I think they make a great present. You can now buy them for as little as £34 with hundreds of colours to chose from to make sure you get her favourite colour. They're great watches, perfect for everyday use to adding a little pop of colour to a plain outfit. They're currently 50% off at The Watch Shop.

You can never go wrong with a personalised mug. Almost everyone drinks some form or hot drinks whether it be tea, coffee, hot chocolate or soups, everyone needs 'their' mug. I've got my fair share of mugs dotted around at Mothers/Boyfriend/Friends houses. These two were brought from Tesco earlier this year and they currently have some great Christmas mugs. Starbucks bring out Christmas mugs each year too which I just
have
to buy! (
www.starbucks.co.uk
)

I went to my first "Partylite" Party the other week and now feel like I've been missing out. Although I must admit that some items seemed a bit pricey for what there were. But there were also some great deals to be had in their Christmas/Autumn catalogue. I brought this set of Reindeer/Deer tealight holders for £13.95 for the pair which I didn't think was too bad. You can shop most products online but I'd recommend having a Partylite Party to anyone. It was great fun and it was nice to see and smell the products before you bought them. These are pictured with Shearer Candles' Orange and Cinnamon Tealights which smell absolutely divine!

On the subject of Candles. The Yankee Store now have their Christmas/Festive range in stock; I couldn't choose just one or two so I brought nearly the entire range. 'Snowflake Cookie' is definitely one of my favourites along with 'Fireside Treats' which smells like roasted marshmallows. I usually buy the waxes instead of the big jars as you then get a chance to try different ones.

My family almost always end up getting something from Body Shop (www.thebodyshop.co.uk) with their Christmas or Birthday presents as it's such a 'loved by all' brand. They have the perfect gift for almost every generation especially their hand creams are always a winner for my Mother or Grandma. I brought this one for myself yesterday and it really does smell good enough to eat!
I hope this Christmas Gift Guide For Her helps with your Christmas Shopping. I'd love some more ideas.
Until next time,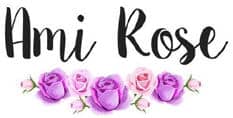 Be sure to follow me on social media to keep up to date with my latest posts!
You can find all of my social media links in the sidebar. I am @AmiRoseBlog on everything.