I'm totally addicted to getting the best bargains or freebies. Is it just me or do thing look/taste/smell better when they're free? Even if it isn't something you personally want or you're going to use it's always nice to give it to someone else. And you don't even have to tell them it was free! I've picked up quite a few freebies this week so I thought I'd start a weekly Freebie Friday tag so you could go and pick up your weekly freebies.
O2 Moments is one of the best apps I have on my phone. Constantly giving O2 customers "no purchase necessary" freebies and unbeatable deals. They update these regularly usually having 1-2 freebies a week and as much as 50% off at stores, restaurants and hotels, they also hold regular competitions. This week is 'Win tickets and a meet and greet with Michael Buble' and 'Win a luxury case of wine' with Vigin Wines. I'm not sure whether it's the good feeling of Christmas but they've got some great deals this week.

I picked up a free demister chamois from Halfords, perfect as Milo seems to have 'claimed' my last one. Along with a free roll of 'Be More Dog' wrapping paper from O2. How can you not love a cat pulling a sleigh (see picture above). There's also free chocolate coins at WHSmith.

I picked up this Bakers dog food bowl when I brought a pack of food in Iceland. As most of you know I've recently got a French Bulldog called Milo and it's becoming a pain having to bring him, along with his bed, food, bowls and toys from home to work and back again.  I've started buying another of everything so it's just Milo we have to carry. This bowl now sits nicely in the office. Even if you've got enough bowls it's always nice to have a spare in the cupboard for when it's needed. I'm not sure whether this deal is in all Iceland stores but it's definitely worth popping to your local to have a check anyway.

This was featured in my '
Christmas Gift Guide
' yesterday as was brought with a Body Shop Christmas voucher in my Cosmopolitan magazine. They also put these vouchers in the Glamour Magazine but sadly mine didn't include one although it was sealed. The vouchers were worth either £3, £15 or £100 and I got the £3 one. This hand cream was £3.50 so I had to pay 50p for it. I love Body Shop's hand creams, they seem to last forever although the foil packaging sometimes splits in my handbag.

Another great deal on the O2 moments app is £10 off at The Fragrance Shop with NO minimum spend. This is great as you often get caught out by '£20 off!! *but you have to spend £100 first, so I was really happy when I read the terms and conditions that I could technically pick up a freebie. After browsing their online site (
www.thefragranceshop.co.uk
) I picked out this 'Travalo' which is a mini travel perfume holder that you can refill and refill and refill again with your favourite perfume. Perfect for you handbag or flights. I'm going to collect it later and hopefully use my boyfriends app to pick up a second. These are either £10 for the basic ones or £12 for the pretty coloured ones, definitely worth the extra £2 and £2 overall with the O2 moments app.

As you all know my obsession with nail polish – especially BarryM; I have to add that Boots are currently doing BarryM's £2.99 Nail Polishes for Buy One Get One Free. They usually do these 2 for £5 or 3 for 2 but never BOGOF so if you're a nail paint lover it's worth making the most of this great deal. They make great gifts too! Pictured is their Cobalt Blue and Pink Sapphire Glitter both on the BOGOF offer.
Such a fab Freebie Friday this week and I'm looking forward to many more. What bargains did you find this week?
Until next time,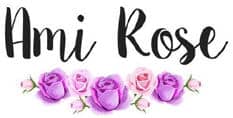 Be sure to follow me on social media to keep up to date with my latest posts!
You can find all of my social media links in the sidebar. I am @AmiRoseBlog on everything.