It was my Grandma's Birthday on Thursday which we celebrated on Sunday and Eat Your Photo kindly provided me with one of their personalised cakes. My Grandma absolutely loved it; although she hates having her photo taken. We celebrated at our local Marstons pub which is my Grandma's favourite. She knows she'll always be able to get a good steak there. I don't think she's ever ordered anything different. I love their Smokey Bean Chilli or the Vegetarian Burger. It's getting the family together I love more than anything though.

Eat Your Photo's Personalised Cakes can serve up to 18 people. I was so impressed with the size when it arrived. I'm almost certain it could serve more than 18 people. But then I suppose that depends on how hungry you are! And when it comes to cake, the answer to that is very. The ordering process was oh so simple. You had to select a cake [this is their Gift Cake] and choose a flavour between vanilla and chocolate. Once you've chosen the cake, you can then upload your photo, chose a personal message and voila. The cake is ready. The cake got to me the next day too which I was more than impressed with.
After having a browse on Eat Your Photo's website I was pleased to find that not only to they do personalised cakes, they also do personalised cookies. Or even pizzas with a picture of your choice on – just imagine seeing your face on a pizza. I'm tempted to get one for my fiance's birthday, how funny would that be?
Thanks Eat Your Photo, you really made my Grandma's Birthday. I'd recommend these to anyone wanting to give their loved ones that personal gift they'll always remember!
What do you think of Eat Your Photo's Personalised Cakes? They're fab aren't they? I can't wait to order another.
Until next time,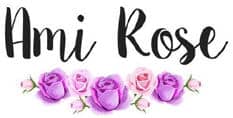 Be sure to follow me on social media to keep up to date with my latest posts!
You can find all of my social media links in the sidebar. I am @AmiRoseBlog on everything.