I'm starting to get really excited about Christmas now and was reading this Christmas Tag on Emma's blog and thought I'd give it a go. I had a really
magical Christmasy weekend
with a traditional Victorian Market Friday night, then putting my Grandma's decorations up Saturday and my Mother's decorations up last night, I just was Christmas to hurry up now. Although I'm no way near ready for it and still have a lot of presents to buy. Just 16 days to go!

In the 'snow' at the Christmas Market
1. What is your favourite Christmas Movie(s)?
It's so hard to choose just one, I think my all time favourite is probably Elf or Love Actually, but then I love the traditional movies that they put on around the festive season especially About a Boy, Mary Poppins or Chitty Chitty Bang Bang (I'm currently being moaned at by the other half as they don't count unless they have Santa in them!!).
2. Do you open your present on Christmas Eve or Christmas morning?
Christmas Morning, who opens their presents on Christmas Eve? Santa doesn't come until Christmas Day so there wouldn't be anything to open! We usually open our stocking presents first thing, then have a late breakfast, usually consisting of croissants then we open family presents before having a late Christmas dinner at around 3pm.
3. Do you have a favourite Christmas memory?
One Christmas memory in particular was about 12 years ago now, I think I was 10 or 11 and my brother had been given a robot that answered to voice commands, but all it said was 'I do not compute' as it didn't recognise anything he was saying. My Great Aunt Kate who would have been about 90 at the time found it hilarious and kept saying 'I do not compute' to everything we asked her. This was the same Christmas she woke up underneath my metal bunk-bed (on a futon) thinking she was in Jail and asking us all what she'd done so wrong to be locked up. Christmases haven't been the same without her.
4. Favourite festive food?
I don't think I have a favourite food, I think it's more the fact that you can eat everything you put your eyes on, whether it's chocolate for breakfast or cheese as a midnight snack, who cares, it's Christmas!
5. Favourite Christmas gift?
I think my most wanted gift was a Pink Nintendo DS when the first ones were released, I got an A4 pad of lined paper and had written 'Pink Nintendogs DS Pack' over and over again until the book was full, I think my mum got the idea! Another of my favourites was a Baby Born Doll that I pushed in a pram around the shopping centre until I was 12 (at least), I never realised how bad that must have looked.
6. Favourite Christmas scent?
Definitely Cinnamon! I'm currently burning some Orange and Cinnamon Shearer Candles which smell amazing. Glade Spiced Apple and Cinnamon is another of my favourites.
7. Do you have any Christmas Eve traditions?
One of my Mother's traditions is buying the turkey Christmas Eve; she still spends hours in the local Morrison's store (which used to be Safeway) waiting for that perfect turkey to be reduced, luckily my brother and I used to (and still do!) stay home with my Grandma. Other than that, just chilling,  eating, watching movies and playing board games.
8. What tops your tree?
An Fairy that my brother and I have to put on the top of the tree at the exact same time whilst each holding a side, all hell would break loose if one side touched the tree before the other side did. This is still the tradition aged 19 and 21, he's away at university this year so the fairy is sitting on the windowsill waiting until he comes home so she can go on the tree.
9. As a kid what was the one (crazy, wild, extravagant) gift you always asked for but never received?
I had to text my Mother on this one because I couldn't think of anything, she couldn't think of anything wild or extravagant although she said I asked to Sylvanian Families year after year when I was far to old for them, and also asked for every dolly on the market. Did anyone have the dolly that actually cried? I used to make my parents look after it.
10. What's the best part about Christmas for you?
My favourite part of Christmas, even as a child, was all my family being together and having fun! I used to love my Grandma coming to stay especially, she'd sit with us and play board games or make puzzles until we had to go to bed. She also let us decorate her, paint her face, dress her up, isn't that what Grandma's are for?
I'd love for you to send me your links if you join in with The Christmas Tag. I can't wait to read your posts.
Until next time,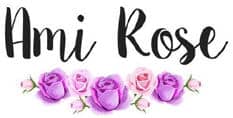 Be sure to follow me on social media to keep up to date with my latest posts!
You can find all of my social media links in the sidebar. I am @AmiRoseBlog on everything.