Having a bad morning, bad week, bad month? I promise these photos will put a smile on your face. I was out shopping last week and saw the most perfect Christmas Day outfit for Milo along with a gorgeous knitted red jumper so I thought I'd do a little Christmas photo shoot with Milo which resulted in some of the cutest puppy photos EVER. Just look at my little reindeer. I can't get over how cute he looks!
This whole outfit was £7.99 from TK Maxx and the knitted jumper below was £9.99, you can't go wrong with those prices. TK Maxx do some wonderful pet products. We've just bought Milo a new bed from there and we can never resist the adorable toys.



I also ordered this Christmas Hat online, I brought it in a small but Milo's grown so much it almost doesn't fit his head, I reckon he'll just wear it for his Christmas Dinner (if he doesn't manage to shake it off himself). What do I sounds like? Wear it for Christmas dinner? I told you Milo was human.

This last item is a little lion toy that I received in the post, there was no card with it so I'm not actually sure who sent it. Milo loves it though so thank you!
What do you think of this Christmas Photo Shoot with Milo? Such a cutie!
Until next time,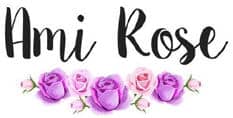 Be sure to follow me on social media to keep up to date with my latest posts!
You can find all of my social media links in the sidebar. I am @AmiRoseBlog on everything.