It has got to the time of year where I really need to 'up' my skincare routine; I have combination skin which is very unpredictable most of the time but in the colder months it is extra dry so I need to add hydrating products to my routine. I'm useless at sticking with one routine which it's probably why it suffers as much as it does so I've been trying to add some skincare 'staples' that help with my dry skin and unexpected breakouts. These Winter Skin Saviours really have made such a difference.




I've been using the Hawaiian Kukui Cream* from Body Shop's Spa Of The World range after showering to lock in moisture to my skin. This cream aims to 'restore skins natural suppleness leaving it nourished and glowing' and it really does. I usually shower in the evening then moisturise with this afterwards, my skin feels absolutely gorgeous when I wake up and feels smooth right throughout the day. It's got a really nice relaxing winter scent too which helps me de-stress throughout the day.
I've been using Clinique Take The Day Off* to remove my make-up at the end of each day. Since banning make-up wipes from my routine as they really dry out my skin this has been my absolute favourite make-up remover. I only buy it as a treat every so often though because it's much more than other make-up removers. I usually buy this when I feel my skin needs some extra attention (i.e. the winter months). This removes make-up without any vigorous rubbing and my skin immediately feels smooth and cleansed.
The Darphin Perfecting Smoothing Serum* was the first Darphin product that I had tried, I'd heard so much about their products on YouTube videos but I never seem to go out and look for them, I'm not actually sure where you can buy them. This is an anti ageing serum and I've been using it as an under eye cream before bed, it brightens my under eye area and it also gives my under eye concealer much more staying power.
Surprisingly this little sample of Origins Clear Improvement Active Charcoal Mask* lasted me for three treatments, I wasn't stingy with the amount I used either. I was optimistic about using this face mask as an ingredient in some origins skincare products makes me break out, although I never know whether this is the 'it gets worse before it gets better stage'. After using this mask once I knew my skin loved it as it really calmed my active breakouts. I used this as a weekly mask, every Sunday night for three weeks and I always woke on the Monday with my skin being much better, softer, radiant and no active breakouts. I've already added the full size to my Christmas List. A definite Winter Skin favourite of mine.
Have you got any recommendations for Winter Skin Saviours?  Do you have any favourite products to help with dry skin?
Until next time,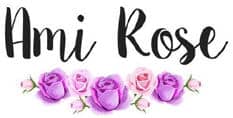 Be sure to follow me on social media to keep up to date with my latest posts!
You can find all of my social media links in the sidebar. I am @AmiRoseBlog on everything.