Autumn is my favourite time of the year for nail colours, although I do love pastels for Spring/Summer. I just can't get enough of the deep Autumnal colours and BarryM are SO good at these. There's something strangely comforting about dark purples, navy blues, browns and nudes and they're so easy to pair with clothing. I'm awful in the summer, I'll paint my nails bright pink and then spend over an hour trying to figure out what I've got that won't clash with it. Whereas deep colours can be matched with almost anything.

BarryM Vivid Purple has been an Autumn favourite of mine for a long long time. I think it's almost 4 years old now and I've worn it every single year. I love how long BarryM polishes last, I've still got one from over 7 years ago (maybe more) that still goes on and dries perfectly, I'm sure BarryM will forever be my favourite high street brand for nail art.
Vivid Purple is a deep, slightly metallic, glossy purple, it looks almost black in some lights but that makes me love it even more. Unfortunately BarryM don't do this exact colour any more as it's part of their Classic Range that they've largely discontinued (sad face). However, Black Currant in their Gelly High Shine Range is very similar and Plum is also a non metallic version of this colour.
I always top my nail colours with Orly Tough Cookie to give them a little extra shine. And to help them last a little longer. I do find BarryM polishes chip easily without a top coat.
Do you have a favourite Autumn nail polish colour? I'm currently eyeing up Black Pistachio!
Until next time,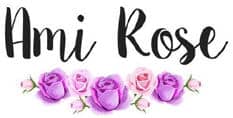 Be sure to follow me on social media to keep up to date with my latest posts!
You can find all of my social media links in the sidebar. I am @AmiRoseBlog on everything.