I watched Zoella's Pumpkin Spiced Festive Cupcakes video and thought I'd have a go at making them myself, I was going to be carving my pumpkins on Halloween so I thought I'd use the carved pumpkin in my cupcakes although when it came to it we all decided we didn't like the idea of pumpkin in cupcakes so made Festive Cupcakes instead. I still made them as 'Halloweeny' as possible though with these gorgeous cupcake cases from Asda along with the Orange Crunch Sprinkles although I was disappointed that I couldn't find Halloween themed Sprinkles.


Festive Cupcakes Ingredients:
Makes 12 Cupcakes
140g plain flour
1/2 teaspoon ground nutmeg
1/2 teaspoon ground ginger
1  teaspoon cinnamon
pinch of salt
2 teaspoons baking powder
1/2 teaspoon bicarbonate of soda
55g softened butter
100g caster sugar
2.5 tablespoons soft brown sugar
1 egg
90ml milk
Icing
100g cream cheese
25g butter
175g icing sugar
1 teaspoon vanilla
1 teaspoon cinamon
Method:
Preparation – 20 minutes | Baking 20-25 minutes
1. Preheat oven to 190c, line a cupcake tin with cases.
2. Mix flour, nutmeg, ginger, cinnamon, salt, baking powder, bicarbonate of soda and brown sugar in a large bowl.
3. Beat the butter and caster sugar together in a separate bowl then add the egg and milk and mix again until well combined.
4. Add the dry mixture to the butter and sugar mixture and mix until all ingredients are thoroughly combined.
5. Add the mixture to your cupcake cases, fill to around two thirds. Bake for 20-25 minutes until they are golden and well risen. Leave to cool before icing.
6. To make the icing, beat butter and cream cheese until smooth then add the icing sugar, cinnamon and vanilla extract. Pipe onto the cupcakes and decorate as you wish.
Enjoy…
Please send me your photos on Twitter (@AmiRoseBlog) if you have a go at making these Festive Cupcakes, I would love to see them.
Until next time,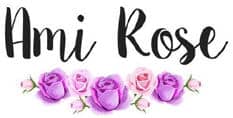 Be sure to follow me on social media to keep up to date with my latest posts!
You can find all of my social media links in the sidebar. I am @AmiRoseBlog on everything.