I really couldn't decide on my nail look for this week. I started out just using my SensatioNail to create a plain red nail look but I've already featured that here so I just had to add some form of nail art so you didn't have to go without a Manicure Monday. Remembering I had some vinyl stencils* from Nail Mail,  I thought I'd incorporate the two into a nail art look.

I'm not going to write too much about the SensatioNail as I've mentioned the ins and outs of it in the post linked above but it makes it so easy to create a 'salon worthy' look from your own home, or your bed, which is where I often create my nail looks. It takes around 15-20 minutes to create gel nails of a plain colour, I did all the usual steps then added the nail art afterwards.
What I love about gel nails is they're instantly dry because of the LED light so you can go straight in with the nail art without having to wait over an hour for them to dry fully. Nail Mail do a range of vinyl nail stencils and I used the Zig Zag pattern for this design. I placed the stencils on my nails one at a time and painted over my entire nail and the stencil with a dark grey nail paint. When using nail stencils it is important to use a nail polish that covers well with one coat as you need to remove the stencil whilst the paint is still wet, there's no time for leaving one coat to dry then painting another so chose a thick paint with good coverage.
I repeated this on all of my nails then had to wait for the grey to dry before I finished the look off with a top coat. I thought I'd place this under my LED light to see whether it helped the polish dry. Much to my surprise after 1 minute under the LED light the polish was completely dry, I think I'll be using this light every time from now on. I finished this look off with the gel base and top coat from SensatioNail, capped the nail and placed it under the LED light for 30 seconds.
What do you think of this nail art look? Have you tried nail stencils or SensatioNail before?
Until next time,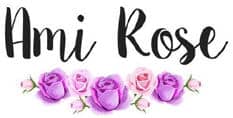 Be sure to follow me on social media to keep up to date with my latest posts!
You can find all of my social media links in the sidebar. I am @AmiRoseBlog on everything.