Last month Quinteassential Teas sent me a selection of their teas to try. I didn't have a tea strainer at the time so as they were loose teas I couldn't try them. I've since bought this little one from Tiger (probably my new favourite shop) so it was time for a tea tasting afternoon. I actually made sure I'd finished all my work an hour early on Tuesday so I could have a proper 'session'. I've done tea tests and tea favourites posts in the past so I'm sure you know just how much I love tea by now. I don't think I could go a day without it, I can't remember the last time I did anyway.



Quinteassential Teas Signature Breakfast*
Bold and Beautiful Ceylon, Assam and Indonesian Black Tea
1-2tsp | Infuse 3 minutes
Considering this is a Signature Breakfast Tea, I was thinking it was going to smell similar to our English Breakfast Teas – strong and well 'tea like' (I'm useless at describing scents). I was pleasantly surprised, it smells much sweeter that I would have imagined with a slight tinge of vanilla. It tastes much stronger than it smells, which is unusual for herbal teas. I enjoy a fruit tea first thing in the morning so this isn't one that I'd have with breakfast, I'd consider this an afternoon pick me up drink.
Quinteassential Teas Tales of the Orient*
A Taste of Paradise, Rooibos, Lemongrass and Mango
1-2 tsp | Infuse 5 minutes
I loved the look of this tea, it had large pieces of  mango and lemongrass and filled the room with a gorgeous aroma as soon as it was opened. I couldn't find the words to describe it so I got a few people to help me with this one, we all agreed that the aroma was similar to that of a bag of pear drops, you know, the traditional sweets (input heart eyes emoji here). It didn't taste as sweet but I really enjoyed this tea. It's one I can imagine crawling in bed with in the evening, it's got a spicy after-taste and tastes 'festive' to me, if that can be a word to describe taste, a perfect tea for the colder evenings.
Quinteassential Teas Imperial Earl Grey*
Regal and Refined, Oolong and Italian Bergamot
1 tsp | Infuse 2 minutes
I am probably the worst person to test Earl Grey Tea, I cannot stand it, I'm not sure what it is about it as I know some people live and die for it but it's not for me. I had it for the first time when I was in New Zealand 6 years ago and disliked it so much that I haven't tried it since.
My taste buds have changed a lot over the last few years and I love many things that I used to avoid but unfortunately Earl Grey isn't one of them. I did try it but it bought me back to trying my first cup all those years ago. I got someone else to try it for me who said 'it was a nice, strong Earl Grey' and they 'thoroughly enjoyed it'.
Quinteassential Teas White Elixir*
An Edible Beauty, White Tea, Jasmine and Spirulina
1 tsp | Infuse 2 minutes
This one didn't smell great and all three of my 'volunteers' agreed with me, it smelt very fragrant and floral, something you would wear rather than drink. This one surprised me and tastes so so so much better than it smells, it's actually one of my favourites out of this bunch but you have to try not to smell it as you're drinking it.
Do you have a favourite tea? Do your favourites change throughout the seasons? Have you tried Quinteassential Teas?
Until next time,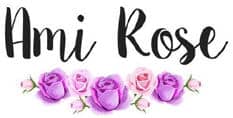 Be sure to follow me on social media to keep up to date with my latest posts!
You can find all of my social media links in the sidebar. I am @AmiRoseBlog on everything.