I'm one of few people to actually love Winter. I think as long as you're dressed for it, what's not to love? It's not like we don't get rain all summer anyway. But one thing that doesn't love the Winter is my hair. I've been trying a few products over the last few months and have come up with these Winter Hair Care Tips. And my gosh have they worked wonders for my hair. I'm getting compliment after compliment and I'm not quite sure I could ever get used to it.
Before I start with my Winter Hair Care Tips, I quickly wanted to add – get your hair cut little and often. I used I think that leaving my hair for months and months and months without a cut would mean Rapunzel hair in no time. Spoiler: It didn't. It mean having almost 4 inches cut off my hair at once as it was so damaged. I haven't looked back though, it's honestly never looked better. I now have my hair cut every 6 weeks.

The Dove Advanced Hair Series products are my favourites out of this selection. And I've only just used up the conditioner. I feel like I've been using it forever. I've also used the Shampoo and the Dry Oil Treatment Mask. Although I've not used the Treatment Mask as much as I should have. These all contain African Macadamia Oil which replenishes hair leaving it silky, shiny and more manageable. I haven't felt the need to use the Dry Oil Treatment Mask weekly as my hair feels smooth and silky as it is.
The first Hot Oil Treatments I ever tried were the Moroccan Argan Oil range from Avon. These worked wonders for me so I jumped at the chance to try the VO5 Give Me Moisture Hot Oil Treatments. These should be used weekly but I've been using them every 2/3 weeks instead as I don't feel my hair needs it every week. These smell amazing and only take a couple of minutes to use. Unlike Oil Treatments that require 15 minutes of your time; I always skip those.  I've been using some of the V05 products featured here since my early teenage years, especially Smoothy Does It and their Texturing Spray. Another favourite of mine that isn't pictured is the VO5 Give Me Texture Instant Oomph Power; this is a godsend.
Heat Protection goes without saying really. I don't use heat on my hair much but when I do I always use TRESemme Heat Protection Spray. Again, this is one I've used since I got my first pair of GHD's, aged 14. I know this is a Winter Hair Care post but this Heat Protection Spray is a perfect all rounder. I always take it in my suitcase when I go away as the sun can be so damaging.
The last products I'm going to mention here are a couple from Toni and Guy. The first is a firm favourite of mine. The Radiating Tropical Elixir. This is very similar to Moroccan Oil, if not identical, with a much lower price tag. This also has UV Protection so like the Heat Protection Spray mentioned above, this would be perfect for Summer too. You only need to use a tiny bit of this. I massage this into my hair after each wash and leave my hair to dry naturally. The results are instant. The last product is Party Ready Volume Lotion. And it does exactly what it says. Ideal for the upcoming party season.
Have you tried any of these Winter Hair Care products? I'd love to hear your favourite Winter Hair products?
Until next time,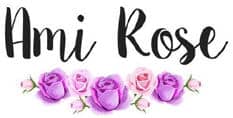 Be sure to follow me on social media to keep up to date with my latest posts!
You can find all of my social media links in the sidebar. I am @AmiRoseBlog on everything.