Bath Christmas Market has been on my 'to-do' list for years and years and years. Although Bath is relatively close to us, it's somewhere Sam and I have only gone a handful of times. This year I was determined to go. And boy have I been missing out. It was absolutely magical.
Bath Christmas Market is the South West's biggest shopping event and a celebration of local, and regional independent businesses, with 85% of business coming from Bath and the surrounding areas. With over 170 unique chalets, there is something for everyone. Hundreds of one-of-a-kind gift ideas, from homeware to clothing to jewellery, children's toys, artisan food and much much more. The Bath Christmas Market is open from Thursday 24th November – Sunday 11th December.


For the first time ever, this year's Market will see the 'Bath Glow', a magical light display. The Abbey Chambers will illuminate and 'the city of Bath will be brought to life in a spectacular animated projection'. We stood and watched this for a little while and loved it. The Bath Christmas Market is definitely more magical at night. As well as the Bath Glow. As usual they'll be lots of festive entertainment scattered around the city. I could have listened to some of the local musicians all day.  Along with the carol singers, brass bands and theatrical performers. If you weren't in the Christmas spirit before visiting Bath, you certainly will be now! I'm still driving Sam insane singing Christmas Carols.
It goes without mentioning, Bath is a beautiful city without the Christmas Market. Make sure you explore beyond the market too. The culture of Bath is outstanding. Some of the museums in Bath are offering discounts throughout the Christmas Market so make sure you pay at least one of them a visit. The Roman Baths have always been a favourite of mine since my childhood. The Museum of Bath Architecture is pretty spectacular too. But even if you skip the museums and just wonder around Bath for an hour, I can almost guarantee you will leave inspired.
Back to the Christmas Markets though… I just found myself getting lost talking about the beauty of Bath. I've included some photos of my favourite stalls at the Bath Christmas Market here. The stalls that I found exceptionally spectacular and unique. The amount of time, and effort that goes into creating these one-of-a-kind gifts is incredible. So thank you for sharing your remarkable talent with us. And thank you Visit Bath for giving them the opportunity to shine. I know I'm going to be returning to the Bath Christmas Market for years to come.







From Beautiful Handmade Wooden Gifts at Timber Treasures to Glass Decorations from Robyn Coetzee Designs or Jo Downs Handmade Glass, or Wooden Ties, Cashmere Socks and Traditional German Christmas Decorations. There was so much to choose from and it was so hard to pick my favourites.
A big thank you to Visit Bath for inviting us and to Bertie and Jack, Boop Design, Bath Gin Company, Dimkins Patisserie, Fudge Kitchen, Kat Aromatherapy, Keylime Design, Robyn Coetzee Glass and Shining Seren for the gorgeous goody bag items. I'm sure these will be featured on my social media channels, or here, very soon. I can't wait to hang my little glass Robin on my tree.
Will you be visiting the Bath Christmas Market this year?
Until next time,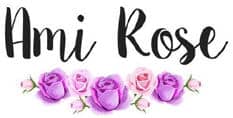 Be sure to follow me on social media to keep up to date with my latest posts!
You can find all of my social media links in the sidebar. I am @AmiRoseBlog on everything.