This is probably one of the easiest but oh so delicious recipes I've ever posted on Ami Rose. I won't say the easiest as I have an Easter Nests recipe that I made in 5 minutes whilst I was at work one day… This White Chocolate Rocky Road is absolutely delicious. I used Starburst Jelly Beans and Marshmallows in mine but you can use almost anything. Popular choices are cherries, nuts and chocolate pieces. I like to add something chewy to mine as I feel this gives it such a gorgeous texture.
This month's Taffy Mail box included a huge bag of Starburst Ice Cream Jelly Beans which I couldn't wait to include in a recipe. You can find my Peanut Butter Cookies made with my last Taffy Mail box here. They offer an American Candy Subscription Box which is packed to the brim with goodies.

White Chocolate Rocky Road Ingredients:
Makes 6 large pieces
250g White Chocolate
40g Marshmallows
40g Jelly Beans
100g Biscuits (I used Shortbread)
Method:
Preparation: 5 minutes | Chilling: 1 hour
1. First you need to break up your biscuits. You can either do this by hand or pop them into a food bag and hit with a rolling pin. The latter is more enjoyable.
2. Then melt the white chocolate. I do this in the microwave for ease but if you don't have a microwave then put it in a bowl over a pan of boiling water and stir until melted. It takes around 30 seconds – 1 minute to melt in the microwave but make sure you stir it every 10-20 seconds so it doesn't burn.
3. Add you crumbled biscuits to the melted chocolate and add the marshmallows and jelly beans. Leave a few aside for decoration. Stir until everything is thoroughly combined.
4. Press firmly into a baking tin and sprinkle with the remaining jelly beans and marshmallows.
5. Leave in the fridge to cool for at least an hour then cut into slices.
Enjoy…
I'd love to see your photos on Twitter (@AmiRoseBlog) if you have a go at making this White Chocolate Rocky Road.
Until next time,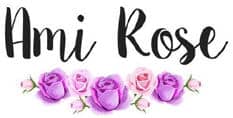 Be sure to follow me on social media to keep up to date with my latest posts!
You can find all of my social media links in the sidebar. I am @AmiRoseBlog on everything.