Autumn is my favourite time of the year. Although I often find myself saying that about every month. I love leaves changing colour and scattering the pavements, searching for conkers, carving pumpkins, excessive baths loaded with LUSH bath products and lots of cosy Autumn/Winter walks. Another favourite of mine is fall nails. I spend hours scrolling through Pinterest and Instagram looking at the colours. There's just something about them. As you all know, BarryM is my favourite nail polish brand. I thought I'd do a quick Manicure Monday on my Top 6 Autumn Nail Colours from my collection.

I've included three polishes from the BarryM Classic Collection. These colours are being 'phased out' but most colours are still available at Superdrug, Boots and M&S. Also they're introducing the same/similar colours into their Gelly Range. The Grey is available in their Gelly Range. The Grey is one of my absolute favourites from this selection. Perfect for creating fall nails as it goes with each and every Autumn colour. It's a fab base for nail art too. I really want to create the cable knit effect at some point.  The Burgundy colour (Raspberry) is still available on BarryM's website. A similar colour to the Copper Glitter is available in BarryM's Molten Metals Range.
BarryM's Gelly Range is one of my favourites from their entire collection. I love the formula, it always stays on for a least a week and it doesn't take too long to dry either. This is the range that's replacing the Classic Collection and BarryM are always adding new colours to this range. I've been eyeing up Black Cherry and Sugar Plum for a while now. The two colours featured in this post (Mustard and Watermelon) are no longer available on BarryM's website but are available on their Amazon.
Last but not least, Countess from the Textured Nail Collection. This range has been discontinued but similar is available.
A couple of their new polishes that would also be perfect for fall nails are Copper Mine, Silver Lining and Boardwalk.
Have you used any of these colours? What are your favourite colours for fall nails?
Until next time,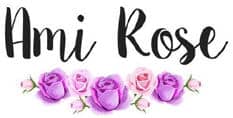 Be sure to follow me on social media to keep up to date with my latest posts!
You can find all of my social media links in the sidebar. I am @AmiRoseBlog on everything.