At the beginning of the month I travelled to Wells, Somerset with five other bloggers.  Adele, Kirsty, Laura, Sara-Jayne and Hannah for the #PLBSlumberParty. We stayed in one of Sykes Cottages, Double House Farm. I've already written a few individual posts on the things we go up to on our relaxing, girly weekend away. And you can read more about the gorgeous cottage we stayed in here. I wanted to do a round up of all the wonderful things we got up to over the weekend.
I left work early on the Friday so I could arrive at the cottage at 5:30pm. It was meant to be just over an hour from work but it ended up being more like two. As well as heavy rain and thick fog so I couldn't see more than a couple of metres in front of me. The weather wasn't ideal but it really didn't matter. I was heading to a cosy country cottage that we didn't have to leave for the entire weekend. And the #PLBSlumberParty begins.
I arrived at about 6pm and Adele and Kirsty were already there, all set up and already opened the wine. I thought I would join them immediately. We caught up and waited for Hainy (Laura) and Sara-Jayne to arrive, Hannah didn't come until the Saturday afternoon. We watched a bit of TV, Friends of course, then Adele and Kirsty prepared us a Mexican consisting of Old El Paso Soft Tacos and Nachos. The Chicken Tinga Tacos were gorgeous, with a nice spice to them, I'm definitely going to try them again. After our feast it was time for a pamper and cocktail evening, we did Face Masks (I used a Banana and Honey one), painted our nails with Soigné polish and Kirsty prepared cocktails.
The next morning of the #PLBSlumberParty we had bacon, eggs and toast for breakfast at around 10am. We then tested some fragrances kindly sent by Library of Fragrance. These can be mixed to make other scents. They recommended mixing Egg Nog and Pomegranate, Moonbeam, Jasmine and Oud, Oud and Paperback and Orange Blossom, Egg Nog and Patchouli. My favourite scents on their own were the Pomegranate and the Orange Blossom which I was able to take home with me. After this we got out of our PJs (for the first and only time) and headed to Tesco for more supplies.  Wine and bubble bath. The cottage had bath tubs in every bathroom and I really fancied a relaxing bath. We also bought pizza as we didn't have anything planned for lunch.
After lunch we made Chocolate Brownie Cups using Reeses Peanut Butter Chips to give them a nutty edge. We then decorated them with Marshmallow Fluff and Confetti Sprinkles. We all did our own thing for a couple of hours before dinner. I chose to get a few blog posts scheduled and felt so much more on top of things afterwards. Adele then prepared us a buffet style dinner including lots of 'picky foods' for us to eat whilst watching X-Factor. Pudding was Pick 'n' Mix, and lots of it. Candy Hero sent us a selection of their favourites and Adele set up a Pick 'n' Mix bar. I don't think there is anything I love more than sweets. The Everlasting Gobstoppers, Sweet Tarts and Bon Bons were my favourite.
Adele and I were up early Sunday morning, I didn't go to sleep until gone 4am either. We watched Friends whilst we waited for the others. We had egg on toast for breakfast and then made Banoffee Pie Jars. I loved the idea of these. they were so simple to make as we used Bonne Maman Caramel Spread but so effective and ideal to present at dinner parties.
We all sat round the 'posh' dining table for a roast dinner Sunday night. Along with a glass of Prosecco and a bit of wine, we spent over an hour chatting at the table. The last activity of the weekend was making our own Lipbalms with Sweet Cecily's 'Make Your Own' kits. We made Christmas Cookie and Mojito – there will be a full post on those next Thursday. After creating these I decided to have a bubble bath and relax with some music, I couldn't not take advantage of the massive baths and I'd bought bubble bath after all. We then got ourselves sorted for leaving in the morning, I think I could have stayed forever.
Thank you Adele and Kirsty for inviting me on the #PLBSlumberParty and Sykes Cottages for letting us stay in your gorgeous Double House Farm. I had an amazing weekend and can't wait to see everyone again at future PLB Events.
Until next time,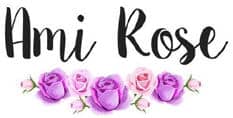 Be sure to follow me on social media to keep up to date with my latest posts!
You can find all of my social media links in the sidebar. I am @AmiRoseBlog on everything.