It's 12:50am on Saturday night, well Sunday morning and I'm tucked up in bed at the #PLBSlumberParty (with a face mask on) writing this post. Considering I woke up at 6:10am, I think I'm doing pretty well. Although it could possibly be something to do with the vast amount of sweets we have just consumed at our Candy Hero movie night. What more could you want at a Slumber Party right? Of course, a Prairie Charms Party Hamper.
Prairie Charms took this opportunity to launch their wonderful Prairie Party Service with the aim to create party bags for adults. Because we should have to miss out because we're now 'grown up'.  I use that phrase very lightly. I'd already read Prairie Charms post with sneak peeks and I just couldn't wait to see which goodies they'd picked for us. I'd already spotted chocolate and sweets in their photos so I knew I was going to love them. I couldn't wait to dive in as soon as I arrived at the cottage.
Each 'Party Box'* included 5 exclusive pieces from Prairie Charms' accessories collection. Along with many sweet treats to enjoy over the weekend [the minute I opened the box]. The Hexagon Bracelet is my favourite from the selection, it's cute and quirky and would spruce up any outfit. I also love the silhouette acrylic owl but the purple colour makes it more difficult to match with outfits. It's a gorgeous pastel colour which I think would be perfect in the Spring/Summer.
They also included a gorgeous pastel selection of their paper straws which I'm going to try and save until next Spring and style with my cocktails. I drink wine or Port in the winter. I'm pretty sure people would start to worry if I sat sipping it through a straw. I think the Emerald Silk Bow would look adorable at the bottom of a fishtail plat and the headbands are perfect for keeping your hair out of your face for face masks; I'm currently wearing one now with my Argan Oil Mud Mask whilst I write this…
Thank you Prairie Charms for this gorgeous party box.
Which would be your top picks from this selection?
Until next time,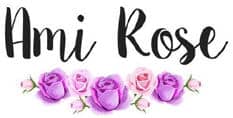 Be sure to follow me on social media to keep up to date with my latest posts!
You can find all of my social media links in the sidebar. I am @AmiRoseBlog on everything.