I've never had to think so hard about what colour to paint my nails than I did this week. I wanted to keep it Autumnal but I've recently done most of, if not all of my favourite colours; it was a greeny colour last week, then a deep purple the week before then a white/nude. I honestly sat thinking for a good 15 minutes about what colour/s to use, that's the problem with having too many nail polishes (can you ever have too many?). Anyway, after scratching my head for a while, I decided on this deep blue denim colour by Nails Inc.
Blue is one of my favourite colours and I think I've featured almost every shade of blue you could imagine. But I'm absolutely loving this deep blue 'Holbien Palace' for Autumn. It's so sophisticated and gives off a gorgeous glow when it catches the light. I've had this colour for a while now but I must have only used it once. As I've said above, it's a deep blue, metallic, deep denim colour. I love Nails Inc polishes and this covered perfectly with just one coat, I added another though, just for a little extra protection from chipping.
Once I'd painted this colour I thought about sprucing it up a little with this Model's Own Limited Edition colour that was made for Clothes Show Live 2013. It's getting towards December now so the sparkles/glitters are definitely going to be featured over the next couple of weeks so I thought I'd start with this one. This is a blue and silver glitter top coat filled with large chunks of glitter, I though it would give it a little extra glow without going over the top and ruining the lovely base colour. I think the blues and silvers work really well together. This works as a top-coat so will protect your nails paint from chipping whilst adding sparkle. Although it's a limited edition they have similar available .
Model's Own are at Clothes Show again this December so I can't wait to build my collection. I'd love to hear what your Model's Own favourites are.
Until next time,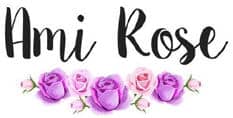 Be sure to follow me on social media to keep up to date with my latest posts!
You can find all of my social media links in the sidebar. I am @AmiRoseBlog on everything.