A couple of weeks ago, my friend Jess and I made our way to The Malvern Spa, Worcestershire* for a relaxing pamper weekend. Malvern is only around 50 minutes from us so its not too far to travel. Although I would probably travel half way across the country for guaranteed relaxation. We arrived at the spa at around 2pm and had extended use of the facilities so we got straight into our robes and slippers. And headed straight for the Hydrotherapy Pool and the four different saunas.



We were so lucky with the weather, it was around 26 degrees both days. Perfect for chilling next to the outdoor pool on one of the many sunbeds or cushions provided. Which is obviously what we did for most of the weekend. I was surprised how quiet it was, there was always a bubble pool available, or room in the saunas, or a sunbed, there seemed to be the perfect amount of people there. Oh and I didn't see one child, not that I dislike children, or that The Malvern Spa is child free (at least I don't think it is) but it's always something I can do without on a relaxing weekend. And I know this is a point that would make others choose The Malvern Spa too.


After a quick swim we checked into our room. We had a twin room with views to the Malvern Hills which was lovely. We unloaded our things, had a Chamomile Tea and got ready for our first treatment, The Malvern Signature Treatment. The Malvern Signature Treatment consisted of a Malvern water ice scrub, a hot lavender steam, a full body warm oil massage and a facial massage, all finished with a Lemon Sorbet and a Malvern Spring Water. Writing this post is making me want to visit all over again. The treatment was perfect, the staff were fantastic and I was totally and utterly relaxed. I then fell asleep to the sound of calming music in the also perfect Relaxation Room. Am I making you want to visit yet?



Dinner was on our mind almost immediately after waking up so we got ourselves sorted and made our way down to the a la carte restaurant. We were given a complimentary platter of breads and olives to start. I recommend trying the the Rosemary and Sea Salt bread. We then had the Baked Camembert to share, this was served with crackers, homemade chutney and honey granola. For the main course, I went for a Mushroom, Quinoa and Chickpea Burger and Jess had the Steak which we both thoroughly enjoyed. We probably shouldn't have done, but we had Poached Peaches with Raspberry Sorbet and Raspberry and White Chocolate Macaroons to share for dessert.

Breakfast was just as mouth wateringly good, croissants are one of my guilty pleasures so I may have had one (five) of these, along with some mixed fruit, green tea and scrambled egg on toast. Oh and jam on toast. All whilst I was still full from the wonderful 3 course dinner, oops. It was then straight back to sink sit in the pool.
My second treatment of the weekend was the Malvern Manicure, I'll be writing about this on Monday for Manicure Monday so I won't say much about it here. Except for the fact that my nails and cuticles have never looked better.

Warning, more food… I promise we didn't just eat for the entire weekend. We had a Cream Tea after our treatments, we didn't quite think we could manage an entire Afternoon Tea… although it did look amazing… so opted for Cream Tea instead. The Malvern Spa Cream Tea was only £5.95 per person. This consists of an entire pot of tea and 2 scones with jam and cream. Believe it or not, both of us only managed one.
Overnight Spa Breaks at The Malvern Spa start at just £189 for two people including breakfast and a treatment of your choice and 3 course meals start at £25 per person at the a la carte restaurant. If you fancy just coming for the day, Spa Days start at £65 including lunch and cream tea or £70 for a half day including a treatment. Such competitive prices at such a wonderful spa.
Have you visited The Malvern Spa? I'd love to hear of any other Spa Days/Weekends you've been on recently.
Until next time,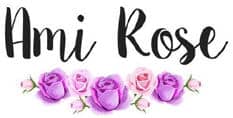 Be sure to follow me on social media to keep up to date with my latest posts!
You can find all of my social media links in the sidebar. I am @AmiRoseBlog on everything.