Last weeks shopping trip didn't start out amazingly. I went because I had to take my
much loved Ted Baker handbag
back because the handle had broken. I honestly didn't think they'd do much about it and would just send me away telling me not to be so clumsy. But I couldn't have been more wrong. They were more than apologetic for how the bag had worn and offered me way more than a refund. Who's ready for a Ted Baker Haul?


This was the original bag I had and I absolutely loved it. This bag is no longer available on the website so I was really worried that they wouldn't be able to replace it. However my luck was in and my local store had this very last one in the stock room and offered it to me as an exchange. I was more than happy with this and was ready to walk away. But then the fun began. They explained to me this bag was previously in the sale and they'd even reduce some more off for me as there was a few cosmetic marks due to it being ex-display. Much to my amazement they told me I had another £85 to spend in their store.

Ted Baker did (and currently still do) have an amazing sale on of up to 70% off so I was definitely able to get my £85's worth.  As my regular readers know I've got a gorgeous
French Bulldog, Milo,
which is why I fell in love with the brand to begin with. I just had to pick up a few of their French Bulldog products. I've wanted one of their phone cases for a while but I often order them online and don't like spending too much on them as I get bored and change them way to quickly. This one was reduced from £29 to £20.

I thought this would be great for my holiday make-up or
mini cosmetics
. It looks smaller in the picture but this is their larger cosmetic bag. This was usually £35 but was reduced to £15 in the sale.

This is one of my favourites from this selection. They do a few different sizes and I think these bags will be perfect for trips to the local shops to buy much needed milk, tea (or chocolate!). This bag was usually £29 which I don't think it too bad at all anyway but was reduced to £15.

Lastly is this gorgeous handbag/clutch bag. It took my sooooo long to choose it. They had it in black also and each pattern on the 20 bags they had in stock were completely different. I felt some we're too "busy" and some had loads of yellow flowers on which I wasn't too keen on. I chose the pink/nude colour as I thought it would be perfect for the Spring/Summer season. This is a clutch style bag but it also has a over the shoulder strap.
I just want to say thank you again to Ted Baker again for their amazing customer service, I am so happy with my
new products
.
So how's this for a Ted Baker Haul? What fabulous customer service!
Until next time,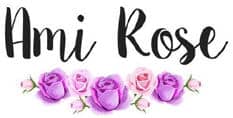 Be sure to follow me on social media to keep up to date with my latest posts!
You can find all of my social media links in the sidebar. I am @AmiRoseBlog on everything.