I'm not sure where January has gone but this is the last Manicure Monday of the month. I noticed I'd done a lot of
nail colour posts
but hadn't done a nail art post for a while. So I thought I'd get my MoYou Nail Art kit out. I brought this kit at the end of 2013 at Clothes Show Live, Birmingham as I hadn't seen anything like it before. They gave me a demonstration at the show and let me have a go myself and it was so so easy. I just had to buy a starter kit.
I purchased their "Kitty Kit" which consists of a Black Nail Polish, 1 Stamp, 1 Scraper and 2 Image Plates. There's so many different Image Plates to chose from. You can browse through on
their website
. I chose a plate of full nail designs and a plate of 5 "French Manicure" style nail tips. I've since been stocking up my selection of Image Plates as they start at just £2.99 so I treat myself to a couple every few months. They keep expanding their selection though making it so difficult to decide on just two.

I went for a floral design this week which I feel is quite a simple design but so effective. Every single person that has come into my office over the last week have mentioned just how nice they looked. And asked where I got them done. Don't you just love it when someone asks that when you've done them yourself?
Firstly I filed and prepared my nails using No7's "Nail and Cuticle Cream" which I've been loving over the last month. Then painted them ready for the Nail Art Stamps. I used BarryM Cosmetics "Cyan Blue" (colour 294) as the base colour and used two coats of this.
My nails were then ready for stamping. It's unbelievable how simple it is. You paint the nail paint over the design you have chosen on the image plate, scrape of any excess polish with the scraper then stamp the design from the image plate and onto your nail. Then repeat onto whichever nails you want the design on. It's a good idea to paint over the design with a clear top coat to prevent chipping. I always use
Orly – "Tough Cookie"
. How simple? It dries on your nail instantly so quickly remove any excess from around your nails and off the stamp. What's great about the MoYou Nail Art Kit is that you don't need a specific type, colour or brand of nail polish to create this look.


MoYou Nail Art Kits start at just £24.99 and if you subscribe to their newsletter today the lovely people at MoYou will give you 15% off, what's not to love?
I'd love to hear from you and see your designs if you try the MoYou Nail Art kit.
Until next time,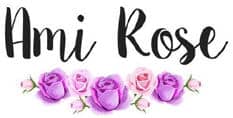 Be sure to follow me on social media to keep up to date with my latest posts!
You can find all of my social media links in the sidebar. I am @AmiRoseBlog on everything.