Since the beginning of January, probably the same as every man, woman and their dog, I have been on a Health & Fitness kick. I'm really motivated to improve my health, body and overall fitness. And succeeding for once. I wanted to take some time to write my 2015 Fitness Goals. As I know I'll find them easier to stick to if I have them written down in one place. And if I put them on the Internet for all to see.
My 2015 Fitness Goals:
Run a 5k or 10k
This may not seem a massive goal for some people but I cannot run to save my life, seriously. I can't even run from my house to the local which is a 1 minute walk. I've always put off the treadmill at the gym because I'm scared to run for 30 seconds and almost pass out. Yet the woman next to me has just ran a marathon and there's not one bit of sweat on her. Once the days get a bit longer and I'm not running along the country roads in the dark I'm going to get my running shoes on and get practising. I want to run a 5K or even a 10K if I'm feeling like pushing myself that little bit harder.
I'm interested in entering a run that's also a bit of fun like the Muddy Race For Life or the Colour Run. I'd love to hear if any of my readers know any other races like this I could enter?
Lose 7lbs and Keep. It. Off.
I've never been overweight but I've also never been "toned" or "fit" which is what I'm aiming to achieve. And hopefully before the sun finally makes an appearance in the Spring. 7lbs is probably the maximum I'd like to lose and I probably won't even lose that if I'm going to be toning up and gaining muscle. I'm just getting fed up of eating healthy and losing weight and then getting back into my habits and putting it all back on again. I need to get myself into a routine and meet in the middle. It's not good cutting things out of your diet for a short period of time if you're just going to overload on it after. It's all about compromising.
Drink More Water
I'm really really really bad at drinking enough liquid throughout the day. After reading many Health and Fitness Magazines (my favourites are Women's Health and Zest), I have realised that my dry skin/breakouts and feeling lethargic throughout the day is highly likely to be due to me not drinking enough water. Or generally drinking enough anything. I've managed to get myself into a routine of a Green Tea (health magazines state this is as good as water) when I get into work, at lunchtime and at 3/4pm. Also I now always have a glass of water on my desk to sip throughout the day.
I've already noticed such a difference after a month of keeping this up. I'm much more motivated at work and I'm not feeling tired until at least 8pm. It's amazing that just drinking a bit more liquid throughout the day has made such a difference already. It's also important to drink water when you're dieting as sometime "hunger feelings" are just your body telling you it needs water. So before you pick up that mid afternoon snack, have a drink of water first and see whether you still want to reach for the biscuit tin.
Eat Clean
I want to improve my diet and banish my bad habits for good. It's no good getting hungry and filling yourself up with refined sugars which are only going to make you crave more food. It's all about filling yourself up with something that's going to slowly release energy and keep you full for longer. The best foods for this are bananas, nuts (walnuts are one of the best) or Ryvita with Philadelphia is one of my favourite mid afternoon snacks.
I'm trying to stop eating late at night and if I really must I'm reaching for fruit instead of crisps or chocolate. I've filled my cupboard and fridge up both at home and at work with healthy food. And I've managed to keep it up so far. Although it's quite difficult trying to make a healthy but quick and rushed lunch. I've been opting for soup and salads but I've allowed myself the occasional (low fat) super noodle; they're just great when you've only got 5 minutes to stop and make lunch. I'd love to hear any ideas for quick but healthy lunches? (I've got a kettle and microwave at work).
Tone Up
As I've mentioned above, my main goal is to tone up my entire body. It's something that I've never achieved but I'm going to push myself this year and I'm going to do it. I've been working out regularly at home and I'm in the process of making a gym in an old site office at work which is coming along well. Although I've not got much to put in it once it's finished. I think it'll be a case of buying things every few months for it when I have a little bit of disposable income. I've also got really into "30 Day Fitness Challenges" and I'm currently on the last day of the 'Squat Challenge'.

These are great challenges as they build you up from struggling to do an exercise once to being able to do it at ease. And in this case 250 times. I started this just before the start of January and I really struggled after the first day. I couldn't feel my legs. Now I'm managing 200+ and not suffering at all the next day. I noticed a difference after the first week and I'm so impressed with what this has done for my bum and thighs over the course of the month.
Apparently it takes 21 days for you to get into the habit of doing something everyday. This has worked with me as I'm going to keep up 30-50 daily along with starting their "Ab Challenge" tomorrow. These challenges take just minutes out of your day and I'm feeling like a different person after this months challenge. Both internally and externally. I'm now so motivated to push myself that little bit harder.
 Let me know if you've done/doing a challenge, I'd love hear your thoughts? Also, what are your 2015 Fitness Goals?
 Until next time,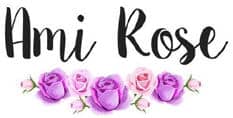 Be sure to follow me on social media to keep up to date with my latest posts!
You can find all of my social media links in the sidebar. I am @AmiRoseBlog on everything.