I was a bit late on the MUA (Make Up Academy) bandwagon but after seeing so many posts on their gorgeous affordable products I just had to go and get some to try for myself. How gorgeous are these products? £6 for all four too. You can't go wrong with their prices. I almost bought their lipsticks in every single colour, one day maybe. MUA is stocked at Superdrug (stores and online) as well as being able to buy from the MUA
website itself
. Although I much prefer going into store and being able to swatch the products.

I'm a big fan if the natural look and this MUA "Undress Me Too" palette is full of neutral colours, including some gorgeous bronzes. I'm yet to try this out but I'll be posting some make-up looks once I do. At £4 how can you not buy this? You can view their large range of palettes on their website. These are the colours I wear on a day to day basis so I can image this is going to get used a lot.

As I've been into natural tones this winter I picked up this lipstick in shade 11. They've got a massive range of lipsticks for just £1, yes £1. Like I mentioned above, I almost bought this is every single colour. I've since been back and bought a couple of colours but I haven't quite got them all yet. MUA Lipsticks have a gorgeous, moisturising, silky formula, one of my favourite formulas. I've recently bought MAC Mocha which is an almost identical shade. Just for a bit more "staying power".

My current bronzer is just a little to dark for these winter months and doesn't go well with my paler skin tone so I thought I'd try out this one in a slightly lighter shade.  This has just the right amount of shimmer to give you a glowing but natural look.

As I'd spent a massive £6 on all three of these items I got this "MUA Undress Your Skin" concealer (worth £3) for free. I've been saying on Twitter that I'm in need of a new concealer for a while so I'm really looking forward to trying this one.
I'm so glad I discovered this brand and can't wait to try more items. I'll be scrolling through their massive range and doing a
wishlist post
soon.
What are your favourite MUA items? Have you tried any of the products in this haul?
Until next time,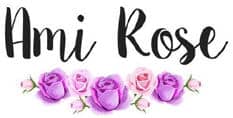 Be sure to follow me on social media to keep up to date with my latest posts!
You can find all of my social media links in the sidebar. I am @AmiRoseBlog on everything.