Last Saturday I was invited along to the Armani Bristol launch as they've recently opened a
counter in House of Fraser
, Cabot Circus. This was my first event of the year and actually my first
event in Bristol
which is surprising seeing as it's the closest city to me. Although I ended up getting there 15 minutes late [sorry girls] due to ridiculous traffic into Bristol and nowhere to park in the main multi-story car park. Honestly you would have thought it was Christmas all over again. When I finally got into House of Fraser I was immediately greeted by the Make Up Artists – Roxie, Chloe and Olivia and given a glass of Cava.




We were given a make-up masterclass using Armani's new and most popular products. I arrived just as they were applying their famous Luminous Silk Foundation. Some other great products they used within this make-up look were the Lip Maestro in 402, the Eye and Brow Maestro in shade 4 and the Fluid Master Primer. I was especially fond of the Lip Maestro's. They had such a nice velvet finish and great staying power. Their Eyes To Kill eye-shadows are absolutely fabulous too. I'd really recommend them.
After the masterclass we were given a chance to look round the Armani Bristol stand, take some photos and swatch some products. We were all colour matched too and given a sample of the Luminous Silk Foundation to try. As well as make-up, Armani Bristol have a massive range of fragrances including their new launch "Armani Prive". My favourite fragrance of theirs is still "Armani Si".



After the event we were all given a fantastic goody bag. So we could try some of their much loved products for ourselves. This included a full size 'Rouge D'Armani' lipstick in Plum. Along with samples of their Maestro Foundation and Highligher and this gorgeous velvet clutch/cosmetic bag. I've already filled with my new products from the event and
shopping trip afterwards
.
Thank you Armani Bristol and House of Fraser for hosting and inviting me to this fabulous event. I had a great afternoon and got to meet some lovely bloggers too. I'm looking forward to trying out the products (keep an eye out for them in my favourites).
What are your Armani Beauty favourites? Will you be visiting Armani Bristol?
Until next time,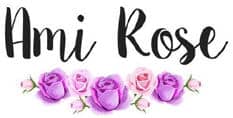 Be sure to follow me on social media to keep up to date with my latest posts!
You can find all of my social media links in the sidebar. I am @AmiRoseBlog on everything.