After seeing Graze boxes advertised in almost every magazine I read, I thought I would give the Graze boxes a go. I'd asked a few people I knew that subscribed to them what they thought about the boxes and they all had very positive things to say so I thought "why not?". I subscribed through Graze online so made an account online and went for their "Nibble Box" which comes with 4 snacks each time from a selection of more than 100 snacks. They also do a low calorie option so you can have just snacks that are under 150 calories. I went for the Nibble Box as I wanted to try as much as I could from their vast range. The Nibble Box is £3.99 per box and you can choose from receiving boxes a few times a week, weekly or fortnightly.
Immediately after signing up and ordering my first box I went through their online list of box contents and "slated" the snack options I knew I definitely wouldn't like. This is a great feature of their website. After you receive the boxes you can "Rate or Slate" the products, so if you didn't like it, they won't send it to you again – ever. I wasn't very good at taking photos of every box before I ate them but I remembered a few.

I was really excited when I got this first box through the post, I couldn't wait to open it and see what was inside. It all looked so nice, the popping corn with black pepper was particularly yummy. And popular with the other half too. I was pleased to see I had an "Afternoon Infusion" tea bag in my box as regular readers will know I'm a big fan of Green/Fruit Teas and this one didn't disappoint.

After highly "rating" their popcorn I was sent another flavour of their "Popping Corn". This was a plainer "lightly salted" and although it was nice, it wasn't as good and flavoursome as the black pepper one in the previous box. The "Apple Crumble" was thoroughly enjoyed by Sam and his Dad. As well as the Oatbakes – I didn't get a chance to try those.

This "Sour Cream and Chive Crostini" is one of my favourite snacks I've had so far from Graze. It was really enjoyable and really filled me up as a mid afternoon snack. The "Dark Rocky Road" made me remember a "Jaffa Cake" snack I had in another box. I think it was Almond, Dark Chocolate, Orange Raisins and something else but together it tasted EXACTLY like Jaffa Cakes.

OK I definitely didn't get Popping Corn in this box. I added it from another box to take the picture as I'd already eaten the fourth snack. But now I've realised it looks like I got Popping Corn in EVERY box -sorry. The "Jaffa Cake" flapjack is one of the most calorific products but it's totally worth it. It was gorgeous, I shared it with Sam so I didn't feel that naughty.

This is my most recent box. It came through my letterbox yesterday. Yet it's already one of my favourites so far. I've got the "Black Pepper Popping Corn" which I've already have and I love. Then I had one of the "Graze Brownies" which I'm yet to try. And some chilli pumpkin/sunflower seeds and "Natures Immunity Nuts" which I had this morning. These were Brazil, Cashew and Pistachio Nuts. I thoroughly enjoyed  them and they kept me full until well after lunch.

Their boxes are so pretty too. I even used their Christmas one as a background for my Christmas Gift Guide shoot. So far I'm really happy with their boxes and have enjoyed trying their different snacks. I think I'm going to change my subscription to their Breakfast Box which is a range of Porridge and Granolas. I'm sure I'll do a similar review on their "Breakfast Boxes" once I've tried a few.
Do you subscribe to Graze Boxes? Do you have a favourite product?
 Until next time,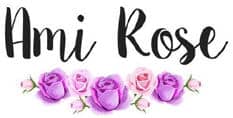 Be sure to follow me on social media to keep up to date with my latest posts!
You can find all of my social media links in the sidebar. I am @AmiRoseBlog on everything.