Superdrug recently carried out the Superdrug Loved By You Awards where we, as customers, could vote for our favourite products in various different categories. They kindly sent me some of the favourites in the Healthcare category to try for myself. I'm going to let you know what I think of these. You can find all of the Loved By You Winners here.
I'm sure many of you have read my Supplements Favourites post and would know that I'm 'into' Health Supplements by now. I don't like the idea of replacing food with tablets but I do like the idea of giving your body that extra oomph where it may need it. And I have really found that Skin, Hair and Nail Tablets help. Vitamin D and Calcium tablets help with my energy throughout the day as my body lacks in both these things. Although I am getting better at eating Calcium. I have tried and taken enough supplements/vitamins to find that they have really helped my body and they're not just a 'gimmick' as my Mother would say.
I hadn't tried any of Superdrug's own brand Vitaglow* before so I was looking forward to trying these. They're both similar so I've only started taking the Collagen and Copper tablets. I don't want to mix too many different supplements together as this can do more harm than good. Both these 'help maintain healthy-looking skin' and are filled with essential vitamins and minerals. Both the Copper and Collagen Tablets and Hyaluronic Acid and Copper Tablets maintain smooth, firm skin, reduce the appearance of fine lines and wrinkles and maintain younger looking skin.
Berocca* – you but on a good day. I can remember my boss having these often when I worked in my local pub. I'm pretty sure he was using them as a hangover cure. Berocca is packed with vitamins and minerals such as magnesium, zinc and vitamins B1 and B2. These help your body convert food to fuel to keep you going throughout the day. Each pack contains 15 tablets that need to be dissolved in a glass of water, they're orange flavoured too so they're actually enjoyable.
These Haliborange Tablets* are aimed at 3-7 year olds but I've eaten the entire tub. I did tweet asking why chew-able vitamins weren't made for adults, they make vitamin taking much more fun (hehe). These are perfect for children. I can remember taking something similar when I was at Primary School. I looked forward to having one after my breakfast, I thought they were sweets. Each tablet contains 7 essential vitamins and 1-2 'fruits' contain 50-100% of a child's vitamin allowance.
Lastly are the Perfectil Original Skin, Hair and Nails Tablets*. I've used these before and the results were fantastic. I've mentioned something similar in my Supplements Favourites post too. I used these a few months ago and the major difference I noticed was how strong and long my nails were. I suffer with brittle nails that tend to get to a certain length and break and since taking these my nails have grown so long. I've actually got to file them down now before they get too long. These tablets contain too many vitamins to list including vitamins D, E, C, B1, B2, B3, B6… The list goes on.
Have you tried any of these products? Do you have any favourites from the Loved By You selection?
Until next time,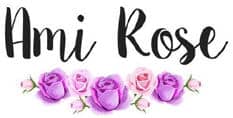 Be sure to follow me on social media to keep up to date with my latest posts!
You can find all of my social media links in the sidebar. I am @AmiRoseBlog on everything.