After seeing Sheer Cover advertised on TV for years I was delighted to be given the chance to give their Intro Kit* a go. I often think things advertised on TV or celebrity endorsed can be too good to be true. Often an airbrushed make-up look can be purely due to technique rather than ingredients and formula. I'm not the best at make-up so I'm ready to put both Sheer Cover and myself to the test.


The Sheer Cover Introductory Kit comes with all the products you'll need for a complete makeup look. The only thing it's lacking is an eyebrow pencil and I added my own lipstick. It comes with a Conceal and Brighten Trio, Perfect Shade Mineral Foundation, Sun-Kissed Bronzing Minerals and Lengthening Mascara with Lash Extending Fibre. This Sheer Cover kit also came with bonus make-up brushes and the Sophisticate Face Palette. I'm going to go through the makeup look step by step and tell you what I thought of each product.

Step One – Conceal. For this step you apply the concealer using the brush provided to any blemishes/spots that need extra coverage. There's two concealer colours in this palette that you can mix together as appropriate to provide a perfect match. I was so impressed with how the concealers matched my skin tone as there was only four shades to chose from. I used my finger to dab this concealer in then repeated the step on any spots/blemishes that were still visible. The Concealer has a thick creamy formula which gave great coverage and  I could see an immediate difference in my skin. This Trio helped to hide blemishes and even my skin tone.
Step Two – Brighten. Within the Conceal and Brighten Trio used in the first step is a cream highlighter. I tend to go for liquid highlighters so I was looking forward to trying something different. I used my fingertip to apply this under my brow bone, at the tops of my cheek bones, a little on my forehead, the centre of my nose and on my cupids bow; places that the sun would naturally hit. This really made me consider cream highlighters for the future. I didn't have to apply much to get my desired effect either so I know this little pot would last a while.

Step Three – Cover. This is where the Sheer Cover Perfect Shade Mineral Foundation comes in. Shake a little into the lid then apply in a circular motion working inwards with the Foundation Brush. You can build up the coverage as necessary. This kit has really helped me to step out of my comfort zone as I usually steer clear of powder foundations. I have combination skin and powder foundation usually makes my dry bits much drier. But as you can see by the photo this have provided an even coverage and provided a matte effect on my skin.

Step Four – Illuminate. Apply the Sun-Kissed Bronzing Minerals using the Blush Brush or Foundation Brush provided. I'm not sure whether you're meant to use each colour individually but I decided to mix all three together. The colours in this palette suited my skin tone perfectly providing a natural looking bronzed glow. I applied this on my cheek bones (not that I really have any) and the top of my forehead.

Step Five – Lengthen. This was my favourite step. I've never tried Lash Extending Fibres before so I was eager to have a go and see what all the fuss was about. This look was so easy to achieve too. Apply 2 coats of the Lengthening Mascara to create a base and then applied a layer of the Lash Extending Fibres. I then added another coat of the mascara to ensure the fibres had stuck to my lashes and darken the fibres to create long voluminous lashes. I absolutely love the finished look of my eyelashes and this is 100x easier than applying fake eyelashes (I'm useless). Plus you get to tell everyone that they're you're own eyelashes – amazing.

I love how the Sheer Cover Introductory Kit has enabled me to get a full looking natural coverage in no time at all. This didn't take me any longer than my normal make-up routine which is 10-15 minutes. I'm looking forward to using the kit more often, I don't tend to wear full make-up throughout the week so I'm going to save this kit for weekends and events.
Have you used Sheer Cover before? Were you as impressed as I was with the results? I'd love to see your finished looks on Twitter (@AmiRoseBlog)
Until next time,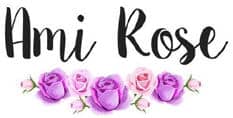 Be sure to follow me on social media to keep up to date with my latest posts!
You can find all of my social media links in the sidebar. I am @AmiRoseBlog on everything.