I've seen coffee scrubs everywhere, magazines, blogs and there's photos all over Instagram of celebrities trying this new skincare sensation. I was thrilled to be given the opportunity by Guilty Pleasure Body to try one of their scrubs for myself.

I was sent their Cocoa Coffee Scrub* which helps target cellulite, stretch marks, psoriasis, varicose veins, eczema and acne; such an 'all in one' product, we're bound to face at least one of these problems at some point in our lives. This scrub is full of fantastic ingredients, each with their own benefits, sea salt and brown sugar to exfoliate, detoxify and remove dead skin cells, Vitamin E to repair skin cells along with many other vitamins to improve your skin and complexion. This lovely product also helps to prevent signs of ageing, is 100% natural and vegan friendly.
I've used this around six of times now and a little really does go a long way. It gets quite messy though so I'd recommended standing in your bath or shower cubical to apply it, you need to get wet in the shower first too so it sticks to you. Guilty Pleasure Scrub needs to be applied in circular motions all over your body, take your time with this and focus on your problem areas; this also works great to exfoliate before applying self tan! It then needs to be left on your skin for 5-10 minutes (the longer the better), I tend to sit in an empty bath whilst scrolling through Twitter, goodness knows what I look like, then after you've left it to 'work' rinse thoroughly in the shower.
I'm so impressed with Guilty Pleasure Body Scrub already and I've only used it a handful of times, I've noticed that my legs seem firmer and my skin is definitely softer, even Sam noticed a difference and he probably wouldn't notice if I dyed my hair bright pink. It leaves such a lovely smell in the bathroom too. They also do a Coconut and Lime Coffee Scrub which I can imagine smells divine!
 Have you tried Coffee Body Scrubs? What did you think?
Until next time,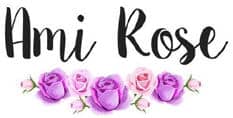 Be sure to follow me on social media to keep up to date with my latest posts!
You can find all of my social media links in the sidebar. I am @AmiRoseBlog on everything.