Such a simple nail art look this week, I contemplated a nail art design but I thought these looked fantastic on their own and knowing me I would have probably made them look worse with my attempted nail art. This is a limited edition (sorry) from the BarryM Foil Effects range. This range and even this colour is still available on Amazon and BarryM's Silk range create a similar matte finish.
This is an old favourite of mine that I found within my collection when
@SamaraBeauty_
suggested I paint my nails lilac. I've got a collection of over 200 polishes so I often turn to Twitter to pick colours, it gets far to difficult for me, I'm the sort of person that would rather chose one or the other. You can get away with doing just one coat of this as it covers so well but I used two for this look.
Did you manage to snap up any of BarryM's Foil Range? What do you think of it?
Until next time,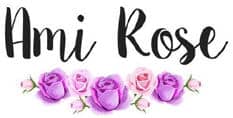 Be sure to follow me on social media to keep up to date with my latest posts!
You can find all of my social media links in the sidebar. I am @AmiRoseBlog on everything.