As you'll all know I've been trying to improve my health and fitness over the last few months. I was delighted when the PR company in charge of Muscle Mousse* and Smart Shake* got in touch with me to ask if I was interested in trying their products. Of course I was.

I've actually got quite a few protein shakes filling the cupboard but I was yet to own a 'proper' shaker. Instead I was just putting them in my usual gym bottle and giving it a good ol' shake. I suppose it works, but not to the extent that the Smart Shaker does. Finally, no more grainy shakes. Although sometimes that can be due to the actual shake rather than the shaker itself. I don't know about you though, but there's nothing worse than a grainy protein shake however nice the flavour is.
Anyway, Smart Shake is a revolutionary shaker, definitely worth the extra few pounds compared with other inferior shakers. It's got three separate compartments as you can see by the photos. Enough room to carry two shakes along with you vitamin supplements or even your headphones, keys or jewellery. It comes in so many lovely colours (I'm now lusting over the neon purple) and these colours are completely interchangeable so you can create your own unique bottle. They're dishwasher, microwave and freezer safe too. You can't say that about many plastic bottles can you.
I've been using this with my Muscle Mousse (I'll talk more about that in a minute) and storing my Silver Line Complete Skin Beauty Supplements* in the top compartment so I remember to take them each day. I mentioned these in my Superdrug Hamper article. They're three daily tablets consisting of Argan Oil, Wheat Germ, Collagen, Vitamin C and Zinc and contribute to the maintenance of normal Skin, Hair and Nails. I've taken these for the full 28 days now and noticed such a difference.
Muscle Mousse is like nothing I've ever seen before. After reading up on it I was so excited to try it. It's basically a protein version of Angel Delight, I probably don't need to say any more in order for you to want it. I was sent the Strawberry version which I was so pleased about as I cannot stand chocolate proteins. To prepare you need to mix a cup of powder with water. I used my Smart Shake bottle to do so. Shake for a good few minutes to ensure your 'pudding' will be of a smooth consistency then pour into a bowl and leave to set for a good 30 minutes. Muscle Mousse is available in seven flavours, Strawberry, Mint Chocolate, Milk Chocolate, White Chocolate, Butterscotch, Peanut Chocolate and Banana. I'm eager to try the Banana one next.
This Mousse can be used for baking too and the #GreatBritishMousseOff is happening this September, I'm going to have a go and I'd love to see your entries if any of you chose to enter too.
Have you tried any of these products? What did you think?
Until next time,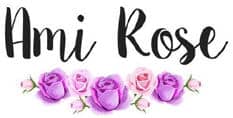 Be sure to follow me on social media to keep up to date with my latest posts!
You can find all of my social media links in the sidebar. I am @AmiRoseBlog on everything.