Boutique Vegan* are an online distributor of all things Vegan whether it be skincare, cosmetics, food, house/garden products or books it can be almost guaranteed they've got it. I've also found that most of the time they stock more of a selection of products (e.g. colours) than the actual brands do so hats off to them. I've got a few other posts scheduled to feature these products but because Boutique Vegan kindly sent me such a lovely selection I thought I'd show you all of the products together and tell you a little about each one.

The first product is this Chimpanzee Cranberries and Nut Bar which is an ideal 'on the go' snack. It contains 9g of sugar which is relativity low for a fruit bar and contains vitamins A, C, D, E and K along with Iron. So much goodness crammed into this little bar.

I'm slightly in love with this Beauty Without Cruelty (BWC) Mascara already, I'd not heard of this brand before but I'm glad I've discovered it now. I've used this a couple of times already and it compares well to my other mascaras. It claims that it 'creates length, curl and definition that stay all day' and I can honestly tell you it does. Boutique Vegan stock over 100 products, 106 to be precise by BWC and I'm already lusting over many of these. I'd love your recommendations if you've used any of BWC's products before.


Thirdly is this
Scotch Naturals Detox Set
which I've already featured in my
#ManicureMonday
. I chose Seething Jealousy which is a dark green, I think this colour would be perfect for the Autumn months although it works lovely in the summer too. Although this took three coats to get it to my desired look once it was on it was on; no chips whatsoever, I removed it after a week but it still looked perfect (I get bored quickly).

I haven't had a chance to try this Hurraw Green Tea Lip Balm yet as I've already got so many open that I want to use up first. I've got a habit of using one for a week then opening a new one. I can't wait to try it though. I've got a feeling this one will be perfect to wear throughout the night.

Oh my these Pur Mojito Lime Mints are good. I tried to make them last but I couldn't resist, they're such a handy handbag 'pick me up'. Pur also do gum in flavours such as Pomegranate or Cinnamon along with mints of other flavours.

I'd never heard of Solid Perfume before so I was really looking forward to trying this. Once I'd figured out what it was and how it 'works'. I now think it's my favourite from this selection. You just rub a little on where you would apply your usual perfume and it last for hours, there's such a selection of scents too.

These Coconut Water Cleansing Wipes smell SO good, similar to Palmer's Cocoa Butter which I love. These remove your makeup really easily meaning you don't have to rub rub rub which can be damaging to your skin. They work well as a cleanser too and always leave my skin feeling soft and refreshed after use.

I'm not overly keen on the scent of this 2 Chic Avocado and Olive Oil but I love the feel of it on my skin. And it's a really handy size.

The last product is this LA Hold Hair Spritz which is absolutely perfect for this hot, humid weather. By the time this post goes live it's probably going to be cold and rainy again. It's basically a hair spray but I've found it to work well in the hotter weather. Whereas my usual hairspray tends to 'melt' out. It's nice and light too so it keeps your style held all day. But doesn't do it by leaving your hair crispy and it brushes out really well.
Will you be trying any of these products/brands? Which one/s appeal most to you?
Until next time,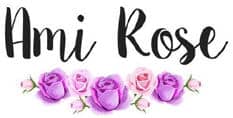 Be sure to follow me on social media to keep up to date with my latest posts!
You can find all of my social media links in the sidebar. I am @AmiRoseBlog on everything.