I think I had the busiest, most hectic but exciting weekend in history last week. I had the #ShropshireBloggerMeet Saturday afternoon in Shrewsbury. Then I had to be back in Bristol for the Clevedon Hall event and overnight stay by 6pm. Then Sunday, after a quick visit home I was back in Bristol by 2pm to catch a plane to Portugal, how manic. I loved every second of it though. I stupidly took the M6 into Birmingham and got caught in stop start traffic. So despite leaving 3 hours early to spend some time with my Niece in Telford before the event I only ended up with a rushed 40 minutes with her. And I had to get ready in that time too!
I arrived on time for the event, thankfully, and got chatting to everyone right away. Sharing business cards, Twitter and Instagram handles so we could all follow each others social media accounts. I also had a browse of the table FULL of wonderful raffle prizes. Deciding which one I'd like if I was lucky enough to have a winning ticket. I then realised that although I'd put my camera on charge overnight, I hadn't actually turned the switch on. So I quickly took as many photos as I could before the dreaded "battery critically low" so excuse the lack of photos from the event. I hope I've made up for it with the goody bag photos though.



After we'd got to know each other a bit we took our seats which were marked with a jam packed goody bag with each of our names on. I was tempted to start going through it there and then but I managed to resist. And I actually didn't get a chance to go through it before I got home from Portugal. It was nice to have something exciting to come home to. We had another chat amongst ourselves and then a lady from Smashbox gave us an informative talk about their products and ways to use them. I was especially keen on the contour sticks and how easy they were to blend I'll probably purchase these in the near future.


The Two Henrys Pub in Shrewsbury, where the event was held, put a buffet on for us consisting of "party food" such as sandwiches, wedges, sausage rolls and mozzarella sticks. We all dug into this after the Smashbox talk. I was absolutely starving so this filled me up nicely, I even had seconds. After we'd filled our bellies Sarah, a stylist for Stella and Dot showed us some of the lovely items whilst modelling them on another blogger. I hadn't heard of Stella and Dot before, it's always nice to discover new brands. Then it was time for the raffle. I had to leave early so I'm glad that I didn't miss it. I WON and chose the Clear Face Range by Sebamed, I'll be writing about these in a separate post once I've had a chance to try everything.

As I've mentioned, I didn't get a chance to go through the goody bag before I got home from Portugal. It was nice to have something to look forward to as I really didn't want to come home from such a lovely holiday. I love seeing what people get in their goody bags so I've tried to take as many photos as possible, enjoy.







Thank you to Kirsty for organising such a fantastic, successful event. I'm looking forward to her next one in September. Also thank you to the Two Henrys Pub for having us and all the fabulous brands that got involved in this event.
Have you been to a Blogger Meet?
Until next time,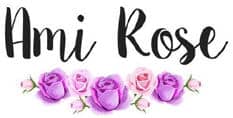 Be sure to follow me on social media to keep up to date with my latest posts!
You can find all of my social media links in the sidebar. I am @AmiRoseBlog on everything.