Shortbread is one of my favourite things to make, it's so quick and easy and it's very unlikely that I don't have the three ingredients to make them as they're all 'kitchen essentials'. These shortbread biscuits are really nice to make when you have a spare 20 minutes, perfect if you're waiting for guests to arrive so you can be greet them with a nice warm shortbread. I have been using this same recipe for years and it's one of my mum's from when she was at school. Does anyone else's parents have a little notebook filled with their favourite recipes? We always turn to this book when we're stuck for ideas as it's full of really simple, quick recipes.
I decided to substitute the caster sugar in this recipe with Xylitol* –  'Super Sugar'. It has been highlighted in the media recently the volume of sugar we're consuming and just how bad it is for your health, it's been said that it's much worse for you than fat too which surprised me. I was pleased when I was sent this from Total Sweet and learned that it could be used for baking too as I've been trying to cut out 'bad sugars' as much as possible and this is a great replacement.  Xylitol is a 'tree sugar' which can help reduce bacteria and plaque in the mouth, strengthen enamel and actually prevent cavities, seriously. It's got so many other benefits too such as helped reduce the amount you eat by satisfying cravings, its recommended to people with diabetes and can even help with conditions such as ear infections.

Ingredients:
Makes 10 Biscuits/Fingers
50g caster sugar – I used Xylitol
100g butter
100g plain flour
1tsp cinnamon
A handful of dried fruit (I used 1/2 a Berry Delight Nakd Bar)
Method:
Preparation – 10 minutes | Baking 10-15 minutes
1. Preheat oven to 180 Degrees Celsius
2. Place all ingredients in a bowl, mix briefly with a wooden spoon then kneed together with hands under the mixture represents a firm dough.
3. Lightly dust the surface and roll the dough out until it's around 1cm thick (2cm if you're wanting to make fingers rather than the biscuits) then using a cookie cutter press out your desired shapes.
4. Place on a baking tray lined with baking paper and bake for 10-15 minutes until they're slightly golden. I find 11 minutes is the ideal temperature as they will continue to cook once removed from the oven. Leave to cool for 10 minutes then enjoy.
I'd love to hear if you have a go at this Shortbread Recipe. What is your favourite thing to bake?
Until next time,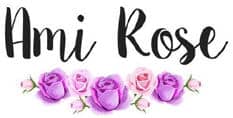 Be sure to follow me on social media to keep up to date with my latest posts!
You can find all of my social media links in the sidebar. I am @AmiRoseBlog on everything.