I'm not too sure whether this is the entire selection from the Ginvera Green Tea Range but it's certainly nearly all of them. I'm relativity new to all things Ginvera. But I've found some of my skincare favourites among this collection so I wanted to talk through some of the products with you.

Obviously I forgot to take photos of all the products before I started using them. I've been using this BB Cream daily for around two weeks now instead of a foundation. I'm not keen on wearing a really heavy foundation throughout the summer months and my skin seems to sweat it off within hours anyway. I've been trying to find a BB Cream for a while and completely forgot I had this one. I can't see a shade on the tube so it may be a 'one shade suits all' product. Although I think it's a little too pink toned for my skin. This provides a natural but flawless coverage as well as SPF 30. Perfect for holidays abroad.

I've only used the 'Day Cream' so far and I haven't been using it long enough to see major differences. But it's not oily on my skin which is a positive for me. I'll update you once I've been using it for a bit longer.

I LOVE this 'Intensive Whitening & Spot Corrector'. I suffer or suffered with bad blemishes on my cheeks and a few scars from teenage acne and this has really really helped improve the look of my skin. Almost to the point where my blemishes/scars are unnoticeable. I've been using it for just under two weeks and I think it's amazing to see such an improvement in such little time. You only need to use a small amount so one 20g tube will last a fair few months.


I haven't had a chance to use the 'Aqua Whitening Cream' or 'Whitening Complete Cleanser' yet so I would love to hear your thoughts if you've tried these already.

Miracle product alert! I can't believe I had this 'Exfoliating Marvel Gel' in my skincare drawer for over 6 months without using it and to this day I don't think I've used a product that's had the same instant effect as this one did for me. It removes deep layers of dead skin cells, rubs away blackheads, lightens blemishes and scars and evens skin tone. It can be quite drying on the skin though so make sure you moisturise after using it. I wish I could afford to use this all over my body rather than just my face.

Lastly from the Ginvera Green Tea range is this 'Whitening & Refining Fluid'. I've been using this after cleansing but like the 'Day Cream' I haven't been using it long enough to give you an in depth review. It states that "pores are enlarged after using cleanser, with residue from cleanser left behind". This is formulated to clear this residue. This also helps to whiten skin and prevent pigmentation.
Have you tried any products by Ginvera? What do you think of the Ginvera Green Tea range?
Until next time,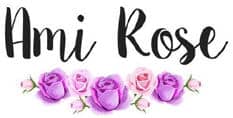 Be sure to follow me on social media to keep up to date with my latest posts!
You can find all of my social media links in the sidebar. I am @AmiRoseBlog on everything.