Seven Seas is a leading supplier of all things health, founded over 75 years ago. They sell their vitamins, minerals and supplements in over 100 countries around the world. They have recently launched their Perfect 7 Women and Perfect 7 Man. Perfect 7 has been developed for people feeling the first signs of ageing who want to 'support their body from the inside'. These tablets are rich in Omega 3 providing essential fatty acids supporting the maintenance of normal heart function. And also contain many important vitamins to reduce tiredness and fatigue and maintain normal vision. I've always taken vitamins and supplements. I can still remember having chewable vitamins before primary school and can't ever remember stopping. Skin, Hair and Nail tablets and Vitamin D and Calcium tablets have been firm favourites of mine over the years.

Perfect 7 Woman* is an 'all rounder' scientifically shown to support skin and nails, hair, energy, brain, vision, heart and hormonal activity. With naturally sourced Marine Oil and Omega 3. The pack contains two different tablets, one of each to be taken daily. I've been taking these for almost two weeks now and I've really noticed a difference. I feel it's always good to change supplements. Just like you would shampoo as if you use something over and over again you don't tend to get the same effects as when you first started using it. I've noticed I've had more energy (I definitely haven't been sleeping more). I've also noticed I'm much less bloated and my hair seems much shinier. I really need it cut though.


I mentioned chewable vitamins earlier and Seven Seas do a large range of vitamins for children and teenagers. I've tried two of their chewable vitamin flavours now. I do keep saying they should be made for adults too though, I think they'd be much more inclined to take them if they tasted like sweets (or maybe that's just me). I think these really really really helped me whilst I was at Primary School, they got me set up for the day ahead.
Seven Seas do Cod Liver Oil* in various forms; depending on how you like to take it it either comes in capsules (both large and small) or in liquid form. I tend to go for the capsules because they're easy to quickly take in the morning or throughout the day but the liquid can be added to your milk or fruit juice in the morning which I think encourages you to drink your Calcium or Vitamin C. Cod Liver Oil is important for Heart Support, Muscles and Bones and Immunity and I always notice a difference in my clicky joints when I've been taking it. I've given the big bottle to Sam's Dad as he suffers with arthritis and Cod Liver Oil really helps to ease any pain.
Seven Seas are giving TWO of my readers the chance to win a 6 MONTH SUPPLY of Perfect7. You can enter via Rafflecopter below and the first three options are mandatory. The winner will be announced next Friday (20th) and Seven Seas will then contact you directly. You will be given the option of either Perfect7 Woman or Perfect7 Man. Good luck!
Have you tried any products from Seven Seas before? Do you take any daily supplements?
Until next time,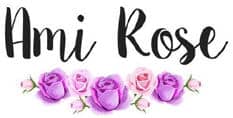 Be sure to follow me on social media to keep up to date with my latest posts!
You can find all of my social media links in the sidebar. I am @AmiRoseBlog on everything.