Amika – meaning friend – have introduced a new range exclusively for Sally Express stores. Their Obliphica range* of haircare products promote healthy hair by using the unique properties of the super fruit Sea Buckthorn Berry. This is rich in antioxidants, amino acids, vitamin E, rare Omega 7 and 190 other bioactive ingredients to protect and nourish your hair.



The Amika Obliphica range contains 17 products for styling and treatments. I have listed their new products from the Obliphica range below with a little information about each one;
Amika Bombshell Blowout Spray – A lightweight mist formulated to add volume and shape, to be used before blow drying for extra texture and lift whilst providing heat protection. This strengthens and nourishes hair for a shiny, smooth finish.
Amika Touchable Hairspray – This gives a strong but flexible hold whilst eliminating frizz and adding shine for an ultra-glossy finish.
Amika Curl Defining Cream – This creates soft, hydrated curls whilst replenishing and moisturising hair. To use, you apply 1-2 pumps through dry or damp hair. This is perfect for me as I don't tend to blow dry my hair (I can count on one hand how many times I have in my lifetime) so I can apply this to my hair once I've got out the shower and let it work it's magic.
Amika Perk Up Dry Shampoo – This works to cleanse your hair by absorbing excess oil and dirt. This can be used on all types/colours of hair and also comes in a handy travel size, perfect.
Amika Straight Up Smoothing Balm – This is a temporary, heat activated straightening balm that provides defence again humidity and thermal damage leaving your hair straight, smooth and frizz free.
Amika Undone Texture Spray – A texturing finishing spray to create sexy, tousled, undone hair. If I was told I could use just one hair product for the rest of my life it would most definitely be a texturing spray; my hair naturally dries quite curly and messy so I spray little of this on it whilst it's damp and scrunch. It dries like I've really made an effort when the truth is I spent less than a minute.
Heat Defence Serum – This serum creates a protective layer around the hair cuticle to increase elasticity resulting in a frizz free smooth finish. I don't often use heat on my hair but it's important to use a heat defence product if you do. This one comes in the form of a serum which I prefer and a little goes a long way.
Silken Up Dry Conditioner – This is similar to the Dry Shampoo but also helps detangle hair and create softness and shine.
Haute Mess Texture Gel – This is similar to the Undone Texture Spray but in the form of a gel. I prefer gels/serums but find sprays easier and quicker to use in a rush. It's great that Amika have created a texturing spray and gel, the best of both worlds.
Headstrong Hairspray – A much stronger, longer lasting hairspray than their Touchable Hairspray. If you want to go bold with your hairstyle this will maximise the life of any masterpiece.
Triple RX Shampoo – This shampoo restores elasticity, moisture and manageability and aims to strengthen and soften weakened, damaged hair. It's suitable for all hair types and won't fade or strip colour treated hair.
Balancing Shampoo – Helps repair stressed hair leaving it soft, manageable and voluminous.
Hydrate Conditioner – Helps return hair to it's natural balance, ideal for all hair types and safe for colour treated hair.
Nourishing Mask – This treats roots, seals split ends and improves shine, elasticity and nourishment. This can be used as a weekly treatment or as an every day conditioner. I've used masks in the past that you have to leave on for 10+ minutes. This one works it's magic in just 2-3, it smells gorgeous too.
Triple RX Mask – This hair mask is mainly aimed at people with dry/damaged hair. It works to resist breakage, restore moisture, soothe dry scalp and repair damaged hair.
Oil Treatment – This feeds and strengthens hair with vitamins and nutrients whilst eliminating frizz and adding shine. I'm not a massive fan of hair oils as I have naturally oily hair anyway but I will be giving this one a go, I'll let you know what I think.
Leave In Cream – I love leave in creams/conditioners, this hydrates, smoothes and defines and it suitable for all hair types. This is massaged or scrunched through wet hair, ideal for the 'non washing' days.
They really have thought of everything and the packaging is absolutely gorgeous. I'm one of these people that chooses wine by the label and this striking packaging would definitely jump out at me in stores. This range starts at just £2.49 and is available online via www.sallyexpress.com or your nearest Sally Express Store.
Have you tried any of Amika's products before? Do any of these products stand out to you?
Until next time,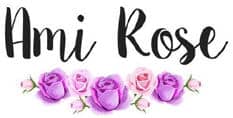 Be sure to follow me on social media to keep up to date with my latest posts!
You can find all of my social media links in the sidebar. I am @AmiRoseBlog on everything.