I love Nail Stamping. It's such an easy but effective way to create nail art for those of you (like me) who haven't got a steady hand to create perfect designs. I've decided to go for the Rio Beauty Image Plate M55 for this week's #ManicureMonday as I thought this was a perfect Spring/Summer plate to match the delightful weather we been having over the past week.
I spent a while trying to decide on a base colour that would match all the colours of the fruits. I considered painting each nail a different colour but that would have been much more time consuming than it really needed to be. So I went for Key Lime from BarryM's Gelly Range as I thought this would compliment the colours I had chosen for the fruit which were orange, red, purple and dark green. I used two coats of this.
You don't need any special or specific nail paints for the stamping process but it's important to chose a shade that covers in one coat as these are much thicker and tend to stamp much better.
You need to ensure your base is completely dry before it's ready to be stamped. I tend to paint my nails the evening before then do the stamping in the morning. You then paint over your chosen design with you chosen colour and scrape off the excess using a plastic scraper. You then stamp this from the image plate onto your nail. It will dry instantly but I leave it or blow on it for 20-30 seconds to make sure. There's nothing worse then spending time on your nails for them to smudge and ruin.

Have you tried Nail Stamping before? What do you think of the Rio Beauty Image Plate M55?
Until next time,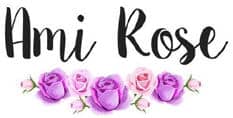 Be sure to follow me on social media to keep up to date with my latest posts!
You can find all of my social media links in the sidebar. I am @AmiRoseBlog on everything.