A little Avon Haul from
this month's brochure 7
. I bought so much I though it would be a shame not to share my first impressions with you.


Magic Effects Mineral Crush. These are £6 each and come in eight colours. Ruby, Agate, Turquoise, Diamond, Pearl, Topaz, Rose Quartz and Amethyst. I have three of these, Turquoise, Agate and Amethyst although I'm loving Pearl and especially Ruby. I don't think it'll be long until I have these ones to add to my collection. These only require two coats and give this really effective full coverage. It's not like some other glitter polishes there require 3, 4 even 5 coats. These have already been mentioned (with a few swatches) in last week's #ManiMonday post.

Magic Effects Fringe, £6 each. These come in 4 colours – Frayed Edges, Tasselled Trim, Jacquered Metal and Fringe Effect. I only have Jacquered Metal from this range. These are very similar to the BarryM Confetti range so if you were a fan of these you'll love Avon's Fringe Range. This can be used alone (but you will need a lot of coats to give a full coverage) or over another colour as a top coat which is my preferred way. It gives such a nice effect to an otherwise 'plain' nail. I love the Tasselled Trim from this range so this may be a future purchase.

Avon Nail Experts Cuticle Conditioner. I haven't tried this yet but I bought it because it was on offer for £3.50 from £6 and I needed a new nail conditioner. The condition of my nails has really improved recently thanks to a few products mentioned in my nail care favourites and I'm hoping this keeps that good condition up.
Anew Clinical E-Defence Deep Recovery Cream (not pictured), £20. I've been looking for a new Night Cream and was recommended this by the representative. This needs to be massaged into your face and neck after removing your make-up and cleansing your skin. It's advertised that this 'visibly repairs wrinkles'. I know many of my readers will be thinking 'but I don't have wrinkles yet' but I can't stress the importance of Anti Ageing enough. Whether you're 16 or 60, why wait until you already have wrinkles to get rid of them? Start using Anti Ageing products now and your skin will love you for it.

Anew Foaming Cleanser, £8.50. I haven't had a chance to try this yet but I'll be sure to let you know what I think when I do. I've been recommended it by a few different people so I'm looking forward to using it.
Avon Gel Finish, £7 each. This comes in 20 colours so I won't list them all. I bought Sterling and Candy Apple as I thought they were both shades that would go with almost any outfit. I love Perfectly Plum and Glimmer so these have been added to my Avon wishlist this year.

Mineral Magic Calming Effects Powder Foundation, £5, usually £10.50. This comes in 5 shades, Ivory, Medium Beige, Nude, Shell and Sand Beige. I've only ever tried a Powder Foundation once and didn't get on with it very well but I saw this and thought I'd give it another go. This is suitable for all skin types which is ideal for my combination skin. It can be used on it's own as your main base or over the top of a foundation more like a powder. I've been using this for a week now and I'm LOVING it. It's giving me such a nice natural looking glow.

Avon Colour Correcting 'CC' Pearls, don't these look fantastic. I'd been wanting to try the Colour Correcting Kit by MUA until I stumbled across this one by Avon. I've only used it a few times but I'm loving it already. I'm using it after moisturising in the morning before my make-up. It does what it says on the tin and balances my complexion lessening the appearance of skin blemishes on my cheeks. My skin has also been quite oily at the moment and these have been perfect for getting rid of the shine and keeping my make-up in place.
I also bought a Peel Off Face Mask (not pictured) at the last minute because someone recommended it it me. It only arrived the other day so I haven't had a chance to use it yet. If their other face masks are anything to go by though this is going to be fantastic. Again I'll let you know what I think one I've given it a go.
How's this for an Avon Haul? What have you bought from their most recent catalogue?
Until next time,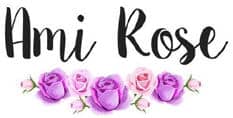 Be sure to follow me on social media to keep up to date with my latest posts!
You can find all of my social media links in the sidebar. I am @AmiRoseBlog on everything.