When Bakerdays emailed me asking if I wanted to try one of their Letterbox Cakes I jumped at the chance. Who would say no to free cake right? I absolutely love a slice of cake with a cup of tea. And look forward to birthday's purely for the cake as my Mum is always good at picking one that she know's I'd love. Mother, if you're reading this, I will NEVER be too old for Birthday Cake. Bakerdays actually emailed me during lent so I asked them to kindly wait until it was over to send me my cake as it would have been so difficult to try and resist cake and watch Sam gobble it all up.


Bakerdays do a range of different cakes, including cupcakes, in a range of different sizes all which can be personalised. Whether that be adding a picture, name, message or all three. Their smallest being their Letterbox Cake (12cm x 2.5cm) going up to their Large Cake (30cm x 7.5cm which serves up to 55 people. Depending on how hungry they are of course. I love the idea of adding your personal touch to a birthday/celebration cake rather than just buying a standard 'Happy Birthday' or 'Congratulations' cake. Although Bakerdays do have over 500 standard designs to chose from if this is what you're looking for. All of their cakes are sent by next day special delivery too.
What's appealing about the Letterbox Cake is given away in the name – it fits through your letterbox. You can arrive home from work to cake in your hallway. Amazing. I thought I'd get an 'Anniversary Cake' if there is such a thing, for our SIXTH anniversary on 5th May. If that doesn't deserve cake I don't know what does. Where does the time go? I went for a photo of us in Beziers at the Canal Du Midi that was taken on our anniversary last year. Along with a funny message "we make a lovely pear" and Sam's name. I didn't tell Sam what design I'd chosen so he did smile when he opened it.



I was so impressed when this was delivered. It comes in a gorgeous reusable tin which is a lovely gift by itself. And I loved that they'd included balloons, candles and a party horn too. It's those little gestures that make this cake perfect for a celebration and I'll definitely look nowhere else when I'm looking for a personalised cake now.  Their Letterbox Cake serves 3-4 portions but Sam and I managed to have a piece with our morning drinks for 3 days which made it 6 portions. We probably had smaller portions than usual though but it's never a good idea to eat too much cake the first thing in the morning.
Have you tried a cake from Bakerdays before? What design would you chose?
Until next time,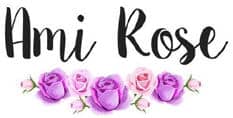 Be sure to follow me on social media to keep up to date with my latest posts!
You can find all of my social media links in the sidebar. I am @AmiRoseBlog on everything.