I'm going to start a 'new products this month' series. Featuring products I've bought or been kindly gifted by PRs & brands. I'm still going to keep up monthly favourites (or start them again next year) but these posts will be mainly showing you new products before I've had a chance to test them out and letting you know of fantastic offers before it's too late. My favourite in this selection has to be the Rimmel Santa Rose Blush or the 50% off New Look Roll Necks. But more about those later.

I've got to mention the New Look Roll Necks first; I bought a couple last year and been meaning to buy more ever since. I picked these up in Burgundy, Black & White and Grey/Black. They're already an amazing price at £9.99 each but New Look have 50% off at the moment and they were just £4.99. I wish I'd picked up more colours now. I live in these over Autumn/Winter.
I've also included a couple of purchases from a recent trip to Swindon McArturGlen outlet. I picked up a couple of sets of Elegant Touch Nails, and some Wooden Snowflakes from Paperchase to use as Christmas Blog Props. Lastly the little earrings from Claires, I thought these would be perfect every day earrings as I don't wear any at the moment.
I couldn't resist a 3 for 2 deal on Rimmel at Boots. Especially when most of these products have been on my wishlist for a while. I picked up the Rimmel Santa Rose Blush as I spotted it in Tanya's video then I'd also seen the Stay Matte Powder featured everywhere. I then bought the Brow This Way Clear Eyebrow Setting Gel as I'm yet to try one and got the Make-up Case and Brow This Way Brow Sculpting Kit free. So get yourselves to Boots lovelies, I bought all of this for £7.98.
Just a couple of other products to mention. I featured the Quick Fix Facial Exfoiliating Scrub Mask in my Christmas Gifts For Girls That Have Everything last week and was gifted this beautiful Glass Robin from Robyn Coetzee at the Bath Christmas Market. Lastly is this Collection Bronze Glow Bronzer; I've been on the hunt for a subtle, non shimmer bronzer for a while so I'm looking forward to trying this.
Have you tried any of these products? How gorgeous is the Rimmel Santa Rose Blush?
Until next time,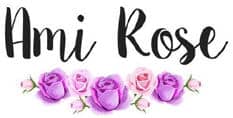 Be sure to follow me on social media to keep up to date with my latest posts!
You can find all of my social media links in the sidebar. I am @AmiRoseBlog on everything.