2017 is going to be MY year. How many times have you heard that already? And how is it 2017!? Every year I write health and fitness goals and every year I try… for a few months; until getting bored, unmotivated and fed up. I honestly, 100% feel like I'm going to smash 2017, in health, fitness and overall life. I have A LOT to look forward to in 2017, I'm already working on projects to take my blog to a whole other level, I have two major things launching with my business, Sam and I will be in our own home AND there will probably be a wedding in there somewhere too. Crazy right? I'm going to write an overall 'New Year's Resolutions' post like I do every year. But this one is just going to focus on my 2017 Health and Fitness Goals. Sorry, I know I've said 2017 far too much already but my gosh am I excited.
As this is my first post of 2017, I think it's only right that I let you know where I've been since I last posted 2-3 weeks ago. I've been blogging 10 years in May, and at least 6-7 of them I've been blogging 2-3 times weekly, so not posting for weeks is not like me whatsoever. If you follow me on Twitter, you'll know, but I lost my Uncle from Cancer in October, followed by my Grandpa Mike in December then my Grandma spent Christmas in hospital. You honestly couldn't write it. But I felt I needed time away, to get my head together, process everything and be there for my family, and let them be there for me. Thanks to everyone that's been here for me over the last few months, I could never have imagined the lifelong friendships I would create through blogging. I'm ready for 2017, and we're going to make it the best year yet.

1) Join The Gym (again) and go three times a week…
I loved being a member of the gym but once I'd finished university, I had no motivation to travel 20 minutes (each way) to work out. I'm moving house in the New Year, fingers crossed, and I'll be able to walk to the gym. A bloody fantastic gym at that, with over 15 daily workout classes from spin to circuits to a more relaxing Yoga. And Fitball which I used to LOVE. Along with a 25m pool and a gym filled with every piece of equipment you could possibly imagine. The only thing it's missing is a sauna or steam room. I want to start going at least three times a week, whether it be a morning fitness class before work, or a 9pm Yoga session, I'll be there.
2) Drink 2 Litres Of Water Per Day
I'm sure this is on everyone's health and fitness goals this year. But it's so damn important. I've been making a point of doing it recently and noticed such a difference in my skin and alertness. I want to make it a habit rather than really having to try to remember to drink. It is possible to drink too much water though so don't sit there downing litres and litres.
3) Make Healthier Choices
2016 saw me become a 'proper' vegetarian and I also gave up alcohol completely in 2015 so I'd say I'm pretty healthy overall. However, my snack choices are awful. If I'm hungry, I'll get crisps, chocolate, sweets or sugary cereal bars instead of something that's actually going to fill me up for more than 10 minutes. I want to fill my fridge and cupboards with healthy snack choices such as carrots and hummus, fresh fruit or roasted chickpeas (a firm favourite of mine). I will restart my 'Healthy Snacks' posts and try and do them monthly for you to give you some ideas.
4) Bake Healthy…
I love to bake, but baking to me means an entire tub of butter, ridiculous amounts of sugar and all the sprinkles you can imagine. I want to start baking healthily, occasionally that is, of course I'll still be making my cakes and other treats. I'm going to try to make my own cereal/fruit bars, or energy balls or granola. I'd love to hear if anyone has any go-to healthy baking recipes?
5) Eat Breakfast
OK this is a hard one. I haven't eaten breakfast since I was about 9, and Mum had to force it down me then. There's something about eating first thing in the morning that I can't get my head around. But recently I've been starving by 11am and waiting until 1pm to eat lunch, it can't been good for me. I'm going to make a point of having breakfast'every morning. Even if it's just a piece of fruit or a yogurt.
6) Get Into A Bedtime Routine
I'm awful at sleeping, thank you Mother for that one. I am determined to get into a routine and sleep at least 7 hours a night, going to bed before midnight and sleeping until 7am. And I'm going to make a point of reading for 30 minutes before I sleep instead of scrolling through Twitter or watching YouTube videos. And I'm going to get up with more than 10 minutes to spare before I have to leave for work. That's an awful habit of mine. I want to have enough time to do something productive before work, whether it's scheduling tweets, tidying the house or preparing dinner for the evening.
7) Take Time Out, and Relax… 
I very rarely take 'me time'. And my gosh do I need it. I'm over the moon to be working with many hotels and spas throughout 2017, and I'm going to use these as a chance to totally relax. Although I'm always working when doing hotel/spa reviews, I find myself able to totally switch off at times too. They have given me a chance to spend quality time with the people I love and I'll be forever thankful for that. I took my fiance, Mum and best friend last year and I'm hoping to be able to do the same this year too. I really want to take my Grandma along to one but she's adamant it isn't her thing. I'm hoping to change her opinion on that though so watch this space…
I'm sure there are a few more Health and Fitness Goals that I haven't touched upon here. I may add them to this at a later date or just include them in my New Year's Resolutions post next week but these are the definite goals I want to work on this year. I honestly cannot believe it's 2017. Happy New Year everyone, may 2017 make your dreams come true.
What are your 2017 Health and Fitness Goals? I would love to try and smash them together!
Until next time,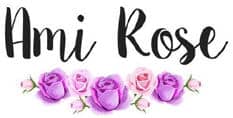 Be sure to follow me on social media to keep up to date with my latest posts!
You can find all of my social media links in the sidebar. I am @AmiRoseBlog on everything.