I went a little crazy in the LUSH Christmas Sale, just like I did last year. I just can't resist any more. Especially when they are 50% off. A couple of these products were featured in last year's LUSH Christmas Sale post so I've left them in the packets, but you can view these here. Stardust is still one of my all time favourites.
For those who don't know (where have you been), LUSH offer 50% off their Christmas and Autumn products on Boxing Day. And afterwards if there's still products in store. I didn't buy all this until the 27th at the LUSH Cribbs Causeway Store. There was still plenty left. The online sale was a little crazy, or should I say insane this year. So I didn't even bother. There were 'holding queues' of about 90,000 and upwards of a 5 hour wait to get on the site, I avoided it like the plague and thought I'd go into store instead. I tried to pick up one of everything available as my local store still had plenty in stock.

The first bubble bar I picked up was Snowie, there were only two of 'him' left. This was a tribute to David Bowie and creates huge fluffy bubbles. It smells like Grapefruit and Rose, I think it's the same scent as 'Frozen'. The only other bubble bar I bought was Candy Mountain. This has an absolutely gorgeous Sweet Vanilla scent and I'll be using this one right away.
Next it's on to the bath bombs, and of course I bought plenty of these. Who could resist at 50% off? Firstly Stardust and Butterbear which were included in last year's LUSH Christmas Sale Haul. Stardust is one of my all time favourites, it reminds me of talcum powder for some reason. But that scent takes me straight back to my childhood years and I love it. Butterbear is another Vanilla scented product, with a generous helping of Cocoa Butter to nourish and protect skin.
I couldn't wait to try Northern Lights, this one looks so funky. This one is meant to look like the night sky when it fizzes (I may add some photos once I've used it). Scented with Ylang Ylang and Jasmine. A lovely, fresh scent. Lastly was 'Never Mind The Ballistics' – what a name. Full of fresh ingredients including Wild Orange, Lime and Banana.
I also bought the Autumn Leaf bath bomb. But as you can tell from the name, this was from their Autumn range rather than the Christmas one. I love the scent of this, Sam hates it. I think it's one of those scents.
On to the non bath bomb/bubble bar items. Firstly the Salt and Peppermint Bark, the first body scrub I've tried. The sea salt will softly exfoliate your skin and it's filled with Cocoa and Cupuacu Butter to soften skin. The LUSH body scrubs are meant to last quite a while too. Next is the ever so famous Rose Jam Shower Gel, this is one of my favourites from this entire selection as I love anything Rose scented.
Who knew I could babble on about LUSH for so long? Nearly finished, promise. The last couple of products I picked up were the Sugar Plum Lip Scrub and Snow Fairy Body Conditioner. I just had to pick one Snow Fairy product up so I went for the Body Conditioner as I'm yet to try one of these. It smells divine, I've got the pot next to me here and I can't stop sniffing it. Sugar Plum smells just as good, it's a very strong blackcurrant scent. I've had a lip scrub on my wishlist for a while so I'm glad I finally got my hands on this one. I'd say it smells almost as good as the Bubblegum one.
Obviously Intergalactic wasn't 50% off but the very very lovely Annie at the LUSH Cribbs Causeway Store gifted it to me when she heard what an awful Christmas/end of 2016 my family and I had. You can read about it in my 2017 Health and Fitness Goals post if you'd like. Annie heard that I was yet to open any Christmas Presents and wanted to give me my first Christmas Gift. She honestly made my Christmas, so thank you Annie.
[October Edit: As this was SO popular at the beginning of the year I thought I'd put this giveaway live again. All of the gorgeous Autumn products are now in stock, and Christmas products are soon to be released. So what better way to celebrate than with a giveaway to WIN 2 Lush Bath Bombs of your choice. Any ones. Subject to availability of course. It's not an entry option but I would love for you to comment below with the Bath Bombs you'd choose if you were the lucky winner.
Did you shop the LUSH Christmas Sale? What did you buy?
Until next time,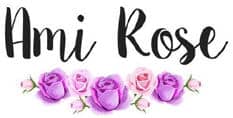 Be sure to follow me on social media to keep up to date with my latest posts!
You can find all of my social media links in the sidebar. I am @AmiRoseBlog on everything.