I'm feeling so on top of these Manicure Monday's, I'm writing this one THREE weeks in advance. I know, I'm shocked too. Bestival Blue from the Rimmel Rita Ora Collection was borrowed from a friend last Friday night. Her daughter brought out her nail polish box as she wanted me to paint her nails so I had a dig around for polishes I hadn't tried yet. I used to always buy Rimmel polishes, so I was pleased to see one from the Rimmel Rita Ora Collection, especially in this gorgeous baby blue.

This is an older one from the Rimmel Rita Ora Collection but shockingly I haven't tried any yet. It's in colour 860, Bestival Blue and is perfect for the Spring/Summer months. Saying that, it's a nice Winter colour too. Definitely an all rounder this one.
I used two coats of Bestival Blue and allowed it to dry fully. I was pleased with how quickly it dried and the finishing colour was gorgeous. But you know me, I'm never happy with plain colours unless I fall utterly head over heels in love with them so I began digging around my friends 'nail box' to find a top coat to work with it. I ended up using a simple silver glitter, owned by my friend's 7 year old daughter which I can only imagine was from the little cheapy makeup sets you're bought as a child to experiment with. It doesn't even have a name, or a colour but it works perfectly with the blue. I'm sure any silver glitter topcoat would have the same effect.
Have you tried any polishes from the Rimmel Rita Ora Collection? What do you think of this finished nail art look?
Until next time,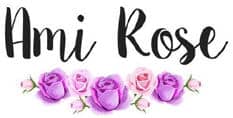 Be sure to follow me on social media to keep up to date with my latest posts!
You can find all of my social media links in the sidebar. I am @AmiRoseBlog on everything.