I'm starting to get so excited about my Degustabox arriving each month so I can fill up my snack box and experiment with new foods. Something I'm not usually very good at. This month's is probably my favourite yet, definitely the most jam packed and weighed a ton due to all the drinks in it this month. My fridge is now completely stocked up with refreshing drinks for this warm weather. I can't wait to try them all (if Sam doesn't get there first).


Degustabox is a monthly food subscription box costing just £12.99 a month, and if you use my discount code (BLDEG15), you can get ALL OF THIS for just £6.99. That's fantastic if you ask me! July's box contained;
Sarson's Balsamic Vinegar – I was pleased to see this as I don't have any in my cupboard at the moment. Perfect for giving a little flavour to a summer salad.
Rowntree's Fruit Pastilles Infusions – I always get excited when there's sweets or chocolates in the box. These will be fab for a naughty afternoon pick me up. The Raspberry and Pomegranate flavour sounds delicious.
ALO Drink – I've got a WHOLE post on these if you want to read all about them.
Jordans Swiss Style Museli – I'm looking forward to trying this. Although I don't eat cereal with milk so I'm going to try this with lots of yogurt. Museli is always so filling, such a hearty breakfast.
Itsu Crispy Seaweed Thins – I've never tried anything like these before. I'm not expecting to love them but I may be pleasantly surprised. The Degustabox included a recipe card with sandwich ideas using these.
Felix Gerkins – Gerkins are definitely not for me but my Mother loves them, so Mother if you're reading this, these are coming your way.
Bahlsen Choco Leibniz – I buy these often and absolutely love them so I've already been snacking away. I always try and bite all the chocolate off the biscuit, such a child I know.
Seabrooks Crisps – I received the Chicken Jalfrezi flavour, which are completely vegetarian friendly so I can't wait to dig into these.
Rejuvenation Water – I was given the Apple and Mint flavour but there was three flavours available. This fuels the immune system and builds a natural resilience to stress, depression and anxiety.
Cracker Drinks Pineapple, Coconut and Lime – I loved the Pomegranate Juice in last month's Degustabox and love this one even more.
Brookeside Chocolates Acai and Blueberry – My favourite item in the box, the whole packet has somehow disappeared, oops. These are Blueberry and Acai flavoured fruit pieces coated in Dark Chocolate. A naughty snack that isn't really that naughty.
Berrywhite Organic Drinks – Sam's already stolen these and said they were gorgeous. They're sparkling spring water blended with natural flavours, with no added sugars and caffeine.
Qcumber Sparkling Water – I mentioned this one on my Good Food Show post as I was given a bottle a while ago. I'm sure the one I tried was still though so I'm looking forward to comparing it with the sparkling version.
Are you subscribed to Degustabox? What did you think of July's box?
Until next time,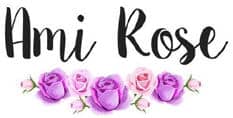 Be sure to follow me on social media to keep up to date with my latest posts!
You can find all of my social media links in the sidebar. I am @AmiRoseBlog on everything.