I've been meaning to start this Healthy Snacks series for a while now. But I've had so many other posts to get live, new ideas have been a little neglected. I'm always being sent/discovering new foods/drinks to try and I'm always wanting to share my favourites with you. I know I'm forever trying to find Healthy Snacks that I don't feel guilty about grazing on in between meals. I'm sure many others are too, and this will be the focus of my Healthy Snacks series. This is hopefully going to be a monthly series, maybe more often depending on how much I've got to share with you. I'd love for you to point me in the direction of new Healthy Snacks to try if you know of any you think I may enjoy. Now onto what you came here for;

#1 Little Miracles Organic Energiser Drinks – A drink can be a snack right? Often you can satisfy cravings with a simple drink of water but these* go the extra mile. The Rooibos Tea is my favourite out of this little selection. They each contain less than 90 calories and they're sweetened with natural cane sugar and agave.
#2 – Dilly and Wolf Sea Salt and Cider Vinegar Fava Beans – These have been a desk favourite of mine this month since I discovered them at the #BloggerTikiParty. With only 98 calories, 3.1g fat and 3.6g sugar per serving these are something you can graze on without feeling guilty. Just don't eat the whole tub at once like Sam and I did.
#3 Brookside Chocolates Dark Chocolate Acai and Blueberry – One of my favourite Healthy Snacks of the moment, and another that I consumed way quicker than I probably should have. I don't usually opt for dark chocolate but these flavours work really well together. Around 150 calories and 10g sugar per serving so a little more than the others. But they're a fab afternoon pick me up. You only need a few to satisfy sugar cravings.
#4 Moma Coconut and Chia Porridge – This is more of a breakfast/brunch than a snack but I wanted to include it. These Moma porridge pots are ideal for on the go. I actually took this one camping with me so I could have a hearty breakfast. These are gluten free and dairy free with no added sugars and each pot contains 247 calories, 8.4g fat and only 1.7g sugars.
#5 The Primal Pantry Paleo Protein Bars – I always carry a cereal/fruit bar in my handbag and I know many others that do too. It saves me buying naughty treats when out and about as I've always got a healthy option with me. I enjoyed the Mixed Berries flavour*. These have 189 calories, 5g fat and 22g sugars with a massive 12g protein per bar. These are so filling, you won't want to eat for a while after having these.
Have you tried any of these Healthy Snacks? What did you think of them?
Until next time,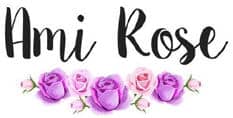 Be sure to follow me on social media to keep up to date with my latest posts!
You can find all of my social media links in the sidebar. I am @AmiRoseBlog on everything.