I think I've mentioned on here before that I suffer with stretch marks and would be willing to try anything to remove them so I was thrilled when Remescar got in touch asking me to trial their Remescar Stretch Marks Cream*. I put on quite a bit of weight in my early teen years which is what I've got to thank for my lovely stretch marks which are the most prominent on my inner thighs. I've tried oils, creams, tablets, everything over the years but can anything really change the appearance of stretch marks? This is a question I aim to answer throughout my use of Remescar.
I can remember not wanting to change for P.E. towards the final years of secondary school because I was so embarrassed, however stretch marks have become a part of my life now and they don't get me down anywhere near as much as they used to but obviously I'd rather them not be there and I often find myself staring at them and wishing they weren't.

Remescar makes the claim that their cream will 'reduce stretch marks up to 50% in 28 days'. Although I'd only been using this product for two weeks I wanted to let you know what I thought so far. And alert you of this product because anything's worth a try isn't it. I'll be doing an update post in around a months time to respond to their claims but for now he's a before photo. (I can't believe that I've just posted a photo of the part of my body that I hate the most for the world to see). Slightly proud of myself.

This cream is silicone based which is different than anything I've tried before. Not only does it help to improve existing stretch marks it also forms a barrier to protect your skin from new ones. As well as hydrating your skin which would make it ideal to use throughout pregnancy. It's so easy to use too. Just make sure that your skin is clean and dry and then apply as you would your daily moisturiser. Massage it in gently to the affected areas until it's completely absorbed. Do this up to three times a day. (I've been applying it morning and night).
I quite often notice differences because I want to. I'm never certain whether the differences are actually there or whether they're psychological. I'm sure I can see them but at the same time I don't think after less than two weeks I can tell you whether something works or not. But again I just wanted to let you know this product was 'there' if you'd like to try it. I've always been willing to try anything new but I often find myself thinking that the 'massaging motion' is what helps stretch marks rather than the product you're actually massaging in. I'll be doing an update post next month but here's my before photo (still shocked); I'll hopefully be showing you a much different after photo in a months time, we can dream can't we.
Have you tried this or anything similar in the past? I'd love to know your thoughts.
Until next time,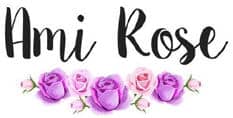 Be sure to follow me on social media to keep up to date with my latest posts!
You can find all of my social media links in the sidebar. I am @AmiRoseBlog on everything.