Should I start naming my nail art looks? I love 'Purple Polka' for this one. But I don't think I'd be creative enough to come up with a name for each one. We'll have to see. I was trying to decide on my nail colour for the week and I'd come up with the idea of having white polka dots with a summery colour as the base so it's a nice simple one for today's look.
I used a Boots BarryM limited edition for the base colour but they have a similar colour available here. This is one of my all time favourite colours by BarryM and it drives me crazy that it's a limited edition, it's always the way isn't it. I then used MoYou Special Nail Paint in White for the dots as this is a really thick polish with great coverage. It's always important when doing nail art to use a paint that will cover in one coat so you'll get your desired effect. I used a dotting tool for the dots which makes life soooooo much easier.


I love this finished look. perfect for summer and it even matches my cider bottle (that wasn't intentional, honest).
What do you think? I'd love to hear your thoughts.
Until next time,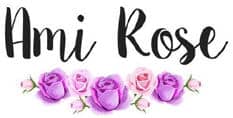 Be sure to follow me on social media to keep up to date with my latest posts!
You can find all of my social media links in the sidebar. I am @AmiRoseBlog on everything.