I'd heard a lot about the Clearista Retexturising Gel as it was included in Glossybox one month. I was thrilled to be able to try the full size to see what all the fuss was about. Clearista is a brand based in California, created by three scientists with the aim to develop skincare solutions that were non damaging to both the surface and deep tissues of the skin. I couldn't wait to give their Clearista Retexturising Gel a go.


The Clearista Retexturising Gel helps to enhance the skin's natural exfoliation processes and reduces the appearance of skin blemishes including dark spots. It also works as an anti-ageing remedy combating rand reducing the appearance of wrinkles. I know many of my readers are around my age (22) but I can't stress the importance enough of taking measures to protect your skin from ageing right away. Why wait until you already have wrinkles to try and prevent them? Start now and your skin will thank you.
Clearista is completely natural containing no synthetic dyes or fragrances. It's also Hypoallergenic and Cruelty Free. It's really simple to use too; you cleanse like you usually would then apply the gel to your skin, massage in a circular motion for up to a minute, rinse off with warm water and follow with your normal skincare routine. You can use it up to twice a day.
I was impressed that the Clearista Retexturising Gel can also be used as a mask for a mini facial. This little tube has so many different uses. To use it as a mask you apply it to cover your face and neck, don't go over the top as a tiny amount of this is so effective, you really don't want to waste it. Leave it for 8-10 minutes then massage in a circular motion and rinse with warm water. I used mine as a mask last night, it was so easy and I noticed an instant difference. It removed any dry, flaky skin and my large red blemishes had greatly reduced.
Each full size (120ml) gel comes with two 15ml sample sized tubes too so it's easy to fit into your handbag or take away on holiday with you. I think this is a lovely gesture and it saves trying to transfer it into travel sized tubes whilst getting most of it on the floor (I hope this isn't just me that manages this EVERY time). This retails at $70 or £44 and is available online at
www.clearista.com
. Each set will last up to two months and Clearista offer a 30 day money back guarantee if you don't see a difference in your skin after the 30 days.
Now here's the fun bit… Like what you've read here? I'm going to give you the chance to try this product for FREE. I have one set worth £44 to give away to a lucky reader. All you need to do it enter the giveaway via Rafflecopter below. You must follow both Clearista and myself on Twitter and Ami Rose on Bloglovin to enter. I have also included some bonus entries to increase your chances. Good luck! (Giveaway now ended).
Have you tried any Clearista products before?
Until next time,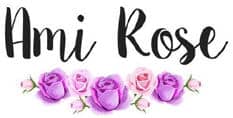 Be sure to follow me on social media to keep up to date with my latest posts!
You can find all of my social media links in the sidebar. I am @AmiRoseBlog on everything.